The Inflatable Church-Enhanced Electric Picnic Festival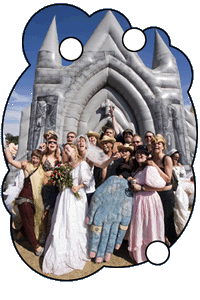 Irish music festivals are probably the best music festivals in the world. Such a generalization may be risky, but
it's useful, and not boring
.
Some Irish festivals
offer Morrissey and ice cream
.
Organizers of the third
Electric Picnic Festival
, which began today, and continues through the weekend, have so much confidence that they can top a Moz-and-ice-cream combo that they're brazenly going
Morrissey
-free.
They are not going without ice cream, though. That would be wacky (and not good-wacky). Their cinema tent is even sponsored by an ice cream company (
and
it's showing "This Is Spinal Tap"! And "Ferris Bueller's Day Off", Zoolander, and some Richard Linklater films, for good measure).
While the hooligans are playing paintball and the hippies are in the Body and Soul Village getting their palms read and doing yoga (possibly simultaneously), most people will likely be checking out the International Comedy Club Stage, as it's evidently "savagely popular."
This should leave a lot of other festivalgoing experiences, such as music, a little less crowded, yet more evidence Irish festival planners really are trying to create a peak experience for everyone. Plus: "Ten different types of gourmet pies!"
Among those performing at Stradbally Estate: Damien Rice, PJ Harvey, New Order, Massive Attack, Pet Shop Boys, The Frames, The Long Blondes, Elbow, Belle And Sebastian, Mogwai, Super Furry Animals, Psapp, and Aberfeldy.
Given the enormous number of couples who meet at concerts, paintball matches, palm readings, and whilst eating gourmet pies, the festival organizers have once again shown their brilliance by inviting people to marry in
The Big Love Inflatable Church
, which they claim is the only inflatable church (the church's website tweaks the claim; there, they only claim to be "the only officially licensed inflatable churh [sic]")
This gem is listed in the "theatrics" section of the
website
:
The Reverend Duncan Pritchard will be overseeing the proceedings, where you can find your perfect partner, invite your wedding guests and get hitched, in the only inflatable church in the world.
But don't think they aren't taking marriage seriously. Actually, do think that. It's "satire", also per the church's website. Just explain the satire bit to your parents. They'll dig it. An Electric Picnic Insta-Marriage/Annulment-or-Divorce could make for a groovy mix CD, which would make a cheap present for friends with the holidays just around the corner.
Live broadcasts from the Festival will be available
online
starting Saturday (Ireland time).
The
Laois Hospice Foundation
, Laois Housing Committee for the Mentally Handicapped, Stradbally Social Services, Stradbally Youth Club, and The Block Project in Portlaoise have been chosen as this year's nonprofit beneficiaries.
Metro Area - Orange Alert (DFA Remix)
(available on
The DFA Remixes: Chapter One
)
The Long Blondes - My Heart Is Out Of Bounds
(B-side on the "Appropriation" single)
New Order - 60 Miles An Hour
(available on
Singles
)
Pet Shop Boys - One And One Make Five
(available on
Very
)
Jim Noir - Computer Song
(available on
Tower Of Love
)
Damien Rice - The Professor & La Fille Danse (Live at Cornucopia)
(available on
B-Sides
)
The Frames - Keepsake
(available on
Burn The Maps
)