Honk If Pluto Is Still A Planet/Colbert's Green-Screen Challenge...
A hodge-podge of topics today...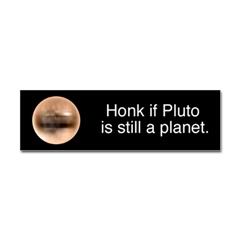 Via the
BBC
, found these
Honk if Pluto is still a planet
bumper stickers. The
backlash
is well underway. The seller of these resistance accessories has pledged to donate all profits to
the Planetary Society
.
Björk - Pluto
(available on
Homogenic
)
B-52's - Hallucinating Pluto
(available on
Time Capsule
)
"In View",
The Tragically Hip
's first single from their forthcoming album,
World Container
is
now streaming
at their website.
A tour film called "Echo & The Bunnymen USA Tour 2006 Film" is now online at, appropriately, enough the Echo & the Bunnymen's
website
.
Guess who will win the
Mercury Prize
and win the nominated albums, an iPod, and a Bose SoundDock. You have to guess correctly to win though. Shame, that. There are probably some other rules too; there usually are with this sort of thing.
The Official Stephen Colbert Green Screen Challenge
puts viewers' "Jedi video editing skills" to the test. So far they have pitted Colbert against a wide variety of opponents including Star Wars characters (naturally), bears, children, and himself (hey, what more "formidable opponent" could there be?). The first prize is $500. The winner will be determined by a popular vote, and voting closes on Election Day.
For an unusual, more musically-minded take on the challenge, check out
"Colbert Crazy"
:
Stephen Colbert vs. OK Go
offers another musical approach:
Right now
"Stephen Colbert vs. Rancor"
is in the lead: