Club NME Presents Dancefloor Distortion CD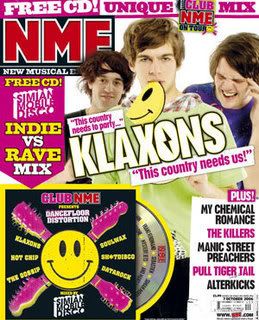 The current issue of
NME
includes
Club NME Presents Dancefloor Distortion
, a CD with 15 songs mixed by
Simian Mobile Disco
, a.k.a. James Ford and Jas Shaw.
The
Soulwax
remix of
the Gossip
's "Standing In The Way Of Control" pwns the other tracks. Plenty of other good songs on the disc though.
Club NME Presents Dancefloor Distortion Mix:

Track Listing:
1. Sebastian - Ross Ross Ross
2.
Franz Ferdinand - The Fallen (Justice Remix)
(Jas Shaw: "This is one of the get-out-of-jail cards if things are going wrong when you're DJing! The crowd always kicks off when we play it.")
3. Zongamin - Bongo Song
4.
Mystery Jets - Crosswords
5.
The Gossip - Standing in The Way of Control (Soulwax Nite Version)
(Jas Shaw: "The original version is so good but Soulwax have nailed it. They do really amazing mixes." Plus, this one is
my
favorite.)
6.
The Emperor Machine - Selka Wants Your VCS3
(Jas Shaw: "It's out of step with everything. People would be be foolish to ignore it.")
7. Klaxons - Magick (Simian Mobile Disco Mix)
8. Datarock - Fa-fa-fa
9. Material - Secret Life
10. Para One - Du Dun-dun
11. These New Puritans - Elvisss (Demo)
12. Shitdisco - I Know Kung Fu (James Ford Edit)
13. Simian Mobile Disco - Hustler
14. Digitalism - Jupiter Room (Martian Assault Edit)
15. Hot Chip - Boy From School (Erol Alkan Extended Rework)