Lloyd Cole: Antidepressant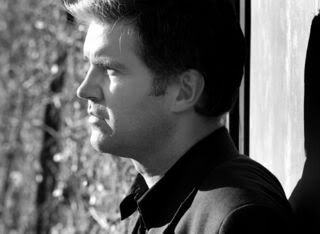 Antidepressant
offers all the elegance and eloquence
Lloyd Cole
's fans have come to expect from him. He's said on this album he tried
"to represent little lives, because little lives are often struggling nowadays"
. A feeling of
quiet desperation
does run through the album.
Probably the most cheerful track, "Everysong", offers a reminder that not every song can be depressing, while cheekily providing such a break:
Surely clouds are coming soon
But as of now I can see nothing but blue
No use to go second guessing
Can't cry everysong
"New York City Sunshine" is the low point. Some of the New York contrasts feel like clichés ("Walking with the junkies and the millionaires"). The music and the lyrics also don't quite gel, largely due to the clunky lyrics.
"Traveling Light" (or "Travelling Light" depending where you live) is being highlighted but while it's good, I prefer several other tracks, including "Slip Away", "How Wrong Can You Be?", "Antidepressant", and "Woman In A Bar" (a.k.a. the one about having no interest in Scarlett Johansson - and thank goodness someone is giving that poor lass some attention; she needs the publicity!)
Lloyd Cole Tour Dates:
Oct. 7 Oslo, Norway - John Dee
Oct. 9 Stockholm, Sweden - Sorda Teatern
Oct. 10 Gothenburg, Sweden - Stenhammarsalen
Oct. 11 Aarhus, Denmark - Voxhall
Oct. 13 Paris, France - New Morning
Oct. 14 Gent, Belgium, - Handlesbeurs
Oct. 16 Barcelona, Spain - La 2
Oct. 17 Madrid, Spain - Caracol
Oct. 20 Bristol, UK - Fiddlers
Oct. 22 Soho, London, UK - The Arts Theatre
Oct. 23 Soho, London, UK, London, Soho, The Arts Theatre
Oct. 24 Manchester, UK - Lowry
Oct. 25 Edinburgh, UK, Edinburgh - Queens Hall
Nov. 3 - Boston, MA - Paradise Rock Club
Nov. 4 - Montreal - Les Saints
Nov. 5 - Toronto - Mod Club Theatre
More dates
to be announced
.
Lloyd Cole - Slip Away
(available on
Antidepressant
)
Lloyd Cole & the Commotions - Cut Me Down
(available on
1984 - 1989
)
Lloyd Cole - Chelsea Hotel
(available on
I'm Your Fan - The Songs of Leonard Cohen
)