Freqtric Drums: Playing Drums On People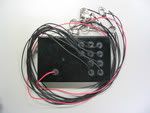 One of the coolest
YouTube
clips I've seen lately features a lengthy Freqtric Drums performance.
Freqtric Drums is a musical gizmo that needs
"human contact to conduct a signal that triggers drum sounds generated from MIDI through wires."
There are two versions, a live model made for performances, and a version designed for home use.
The device was recently exhibited at the
SIGGRAPH 2006
Conference On Computer Graphics and Interactive Techniques, where it had to compete for attention with the likes of the
world's largest Etch-A-Sketch
.
Those working on the Freqtric Drum Project say the "the interface of human skin contact has never been used before" in "electronic musical devices". (Somehow the concept seems familiar but it's nifty either way.) Everyone likely agrees on what really matters. "Through the digital technology of Freqtric Drums, we can enjoy music and skin contact." And how.
There are
other
clips
of the gizmo in action on YouTube, and
several videos
on Freqtric Drum Project's website.
An
especially cool Freqtric Drums clip
:
The
world's largest Etch-A-Sketch
:
Unrelated song, for anyone just here for a song:
Le Tigre - Deceptacon
(
YSI link
, available on
Le Tigre
.
The kids like to dance to it
)