Pet Shop Boys With Strings, Frances, Rufus, & Robbie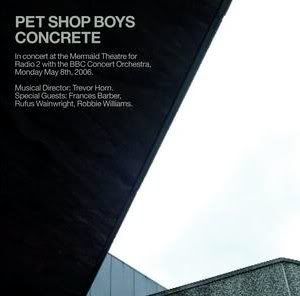 For their next album
Pet Shop Boys
decided to go the
Eels
with Strings route and
perform backed by an orchestra
, in this case the BBC Concert Orchestra.
The double-disc
Concrete
includes a selection of the Boys' songs, and with its October 23 U.K. release date, manages to beat
The String Quartet Tribute
to the punch by releasing
their own
classical renditions of their songs first, albeit not purely instrumental versions.
The album features three guest vocalists.
Rufus Wainwright
lends vocals to "Casanova In Hell" and
Robbie Williams
sings "Jealousy". Frances Barber, who performed in the 2001 production of the Pet Shop Boys' musical
Closer to Heaven
, sings "Friendly Fire".
There's no word on whether the Mermaid Theatre concert will get a DVD release.
Concrete

Track Listing:
(from the Pet Shop Boys'
website
)
Disc One:
1. "Left To My Own Devices"
2. "Rent"
3. "You Only Tell Me You Love Me When You're Drunk"
4. "The Sodom And Gomorrah Show"
5. "Casanova In Hell" (Sung By Rufus Wainwright)
6. "After All"
7. "Friendly Fire" (Sung By Frances Barber)
8. "Integral"
Disc Two:
1. "Numb"
2. "It's Alright"
3."Luna Park"
4."Nothing Has Been Proved"
5."Jealousy" (Sung By Robbie Williams)
6. "Dreaming Of The Queen"
7. "It's A Sin"
8. "Indefinite Leave To Remain"
9. "West End Girls"
Pet Shop Boys - Jealousy
(
YSI link
, available on
Pop Art - The Hits
. I think this will sound great backed by an orchestra.)
Robbie Williams - I Wouldn't Ordinarily Do This Kind Of Thing
(
right-click to download
, available on the compilation
Angels
, an import in most countries)
East 17 - West End Girls
(
right-click to download
, available on
The Very Best Of East Seventeen
)