Uncut November Issue/Playlist CD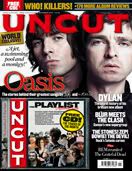 The Gallagher brothers of
Oasis
provide a "World Exclusive!" to
Uncut
, sharing who knows what exciting "stories behind their greatest songs". It must have been burning at those poor lads, having held in all these stories for so long, just waiting for the right moment to tell them.
Now at last Noel can tell the world that the title of "The Importance Of Being Idle" comes from the title of the book,
The Importance Of Being Idle
. "It's also one of my personal favourites," he says of the song. And now you know the rest of the story. More or less.
Sufjan Stevens
speaks to the magazine about his hobbies, hopes, and fears.
"All musicians have that anxiety about a shelf life," he shrugs. "Am I going to be outdated? And I think that's a good fear to have. It's also because for some reason the music industry really romanticises youth, and rock n'roll is based on a rebellion that happens when you're a teenager. But there are people that have staying power. Dylan and Neil Young and Willie Nelson. He has a lot of class. David Byrne, too."

"Creatively I'm not sure where I am he admits," he admits. "I'm stull dissatisfied at times with my writing. I think that's something you determine much later in life. You look back and retrospectively decide if it's valuable music. How it resonates with you. Did I have that moment when I turned 30? No. No, I haven't had that moment yet."
Reader-submitted questions made this month's "An Audience With..." feature with
Beck
, along with questions from a few musicians.
Kasabian
asks who his tailor is; he doesn't have one.
A reader asks what "draws you to Scientology?"
Beck: "Well, I kind of grew up around it. My dad's been doing it since the mid-'60s or something. So it's kind of always been around and it's been helpful. My grandfather was a Presbyterian minister. And my mother was very devout, into Judaism. I had Japanese friends who were Buddhists. I grew up in an area where Central Americans, Catholics and Vietnamese people all mixed. So it's just tolerance that is the key."
He later praises R Kelly as "the king of the slow jam" with nary a mention of his status as "the prince of the music-making scumbags who should be in prison" so I guess Beck's "tolerance" extends to being groovy with someone whether or not they might have committed illegal sexual acts with children as young as fourteen, made child pornography, forced someone to have an abortion, or engaged in acts of physical and verbal abuse.
The Good, the Bad & The Queen
's Damon Albarn and Paul Simonon talk to
Uncut
about their forthcoming, self-titled debut album. Albarn says it contains stories, many of which were inspired by the area around the "west London manor" where he lives with Simonon. Albarn says says he found inspiration in "moments around where I live - the streets, bridges, canals, gasworks, late nights and early mornings."
The magazine also includes an interview with an Tony Curtis, an article about the making of Free's "All Right Now", an album-by-album look at the works of John Martyn and a debate between Suede's
Brett Anderson
and
Badly Drawn Boy
as to whether music awards are "just backslapping bollocks"? 1993 Mercury Prize recipient Anderson says yes. 2000 Mercury Prize winner Badly Drawn Boy begs to differ. Uncut wants to know what
readers think about music awards
, and will run the poll results in a future issue.
* right-click to download any/all songs below *
Uncut: The Playlist - November 2006

Track Listing:
1. Bright Eyes - I Will Be Grateful For This Day
2. Townes Van Zandt - Poncho & Lefty
3. Echo & The Bunnymen - Rescue
4.
The Pernice Brothers - High As A Kite
(available on
Live A Little
) I didn't like it on the first listen, found it overblown and didn't like the writing, but I liked it more the second time I listened to it. Not entirely sure about it though. Something about the music still reminds me of something like a melodramatic showtune about a high school... I really like the Pernice Brothers. I know they can write and perform very beautiful, romantic songs that might seem a bit dramatic without veering into melodrama or sounding overblown ("The Weakest Shade Of Blue").
5. Tilly & The Wall - Rainbows In The Dark (a lot of people love them, but my tolerance level for Tilly & The Wall is low)
6. Dan Sartain - Hangers On
7. John Phillips - Topanga Canyon
8. The Black Angels - The First Vietnamese War
9. Donald Fagen And Walter Becker - Roll Back The Meaning
10. Mansun - Wide Open Space
11.
Albert Hammond Jr - Scared
(available on
Yours To Keep
) Sweet, irresistible new wave song from the Strokes guitarist's solo debut, which
Uncut
gives a 4-star review. Sounds like Nine Inch Nails for a moment, then sounds more like an old Elvis Costello tune, then a bit Nine Inch Nailsesque at the end again.
12.
Mercury Rev - Goddess On The Hiway
(available on
Stillness Breathes: The Essential Mercury Hiway
) Endlessly gorgeous.
13.
The Gothic Archies - Crows
(available on
The Tragic Treasury: A Series Of Unfortunate Events
, which contains a song for each Lemony Snicket book. It's being released in conjunction with the last one,
The End
)
14.
The John Doe Thing - Broken Smile
(available on
The Best Of Us
) These songs were recorded "a decade ago", when John Doe didn't have a record deal. And now he does...
Uncut
, in their 4-star review of this album, calls this song, along with "Bad Bad Feeling", "primal screams with a beat". It's more pleasant than that might sound, really! The most solidly "rock" song I'm posting today. Strong lyrics: "She's got a smile that would break a thousand hearts though one hardly ever sees it/She's got a smile that would break a thousand hearts/and she's breaking her own right now."
15. John Martyn - Solid Air