Garbage to Go on "Indefinite Hiatus", Much Like Cool TV Shows Sometimes Do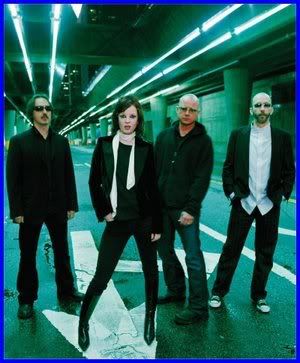 Singer Shirley Manson has said that
Garbage
will take an
"indefinite hiatus" once their Australian tour concludes this month
. Manson hastened to add that everyone in Garbage still loves each-other very much and this has nothing to do with how they feel about
us
. Not much about us, actually, but otherwise pretty close to the mark. Her comments in
this interview with the Melbourne Herald Sun
make it sound like it was just time to take a break... like everyone was tired.
Manson said, "Things feel really positive in the band, which makes it a good time to take a break." She said the hiatus was discussed in "an adult fashion over dinner one day." "I'm tired and I feel my life is out of control to a certain degree. I just need to get home," Manson told the Herald Sun. "The rest of the band feels the same." I haven't seen any comment yet from Garbage's Butch Vig, Steve Marker, or Duke Erikson.
While she anticipates solo work is "undoubtedly" part of her future "at some point", Manson told the Herald Sun "I don't think I'll ever make music with another band". Still, a reunion with Garbage
is
possible.
A breakup had been rumoured for a long time, and the band acknowledged tension during the making of
Bleed Like Me
. Some bands move on from those sorts of troubles, but sometimes it's the better decision not to. It's better to "take a break" or break up than to go on if their hearts or energies can't really be in it. They would possibly start to dislike each-other as well, and that's not good for anyone. Garbage was/is a great band, though my feeling is the breakup is likely a good and timely idea... at least for now. Certainly if they think it was time... it is. I doubt we've heard the last from any of them.
mp3:
Garbage - Vow
(from
garbage
)
Garbage - Queer (Danny Saber mix)
(from one of the versions of the Australian CD single of "Stupid Girl")
mp3:
Garbage - Milk (Butchered Vegas mix)
(a.k.a. Rabbit in the Moon mix, from least one of the "Milk" singles. Thanks and props to
the Garbage Discography
, an unofficial site that helped me sort out which Rabbit in the Moon mixes of "Milk" were which. The official Garbage website has a pretty good and well-organized discography, and lyrics are easy to access from the discography. I especially recommend this unofficial site for trickier things)
mp3:
Garbage - You Look So Fine
(from
Version 2.0
)
mp3:
Garbage - Push It
(from
Version 2.0
)
mp3:
Garbage - Thirteen
(Big Star cover, from one of the "Push It" singles. Muse has a song called "Hate This And I'll Love You" -- which is awesome -- and no, I haven't forgotten about the song title posts to go on a huge tangent for a moment. There's a sense of kinship formed by mutual dislike for something, but also the cheerier flip side to that. I won't go so far as to say loving/covering Big Star/"Thirteen" means I'll definitely love a band... but it's likely to increase the fond-o-meter... especially if it's a cover I like. I like this cover)
mp3:
Garbage - Cup of Coffee
(from
Beautiful Garbage
)
mp3:
Garbage - It's All Over But the Crying
(from
Bleed Like Me
. I wonder whether they've been playing this lately...)