Uncut CD: Comets, Ghosts and Sunburned Hands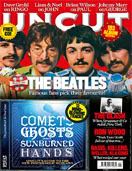 The cover story of the December 2006 issue of
Uncut
is a relatively thin piece about The Beatles in which "famous fans pick their favourite!" Naturally, Liam and Noel Gallagher participate, each choosing the same Beatle. Perhaps each brother (or bandmate) counts as half a person, because there are only three other "famous fans" (Dave Grohl, Johnny Marr, and Brian Wilson), one for each of the other Beatles. There's also a list of 10 reasons "we love" each Beatle, and there's a bit of Beatles content elsewhere in the issue...
The mag also includes interviews with Comets On Fire, Ron Wood, and Richard Ashcroft (the latter peppered with a few questions from "stars") and lots more, but back to that later.
The free CD this month has a rather lengthy title and a "modern psychedelic" theme. A couple of the tracks are from albums that won't be out until next year, which is really modern. They're from a whole different year.
They're from the future!
Trippy.
Comets, Ghosts and Sunburned Hands: Uncut's Guide To The New Psychedelic Outlaws

Track Listing:
1. Entrance - Grim Reaper Blues
2. Oakley Hall - Hiway
3. Comets On Fire - Sour Smoke
4.
Six Organs Of Admittance - The Desert Is A Circle
(available on
The Sun Awakens
) Uncut: "the twanging ambience of a spaghetti western".
5. Citay - Seasons Don't Fear The Year
6.
Black Mountain - Druganaut
(available on
Black Mountain
) Uncut: "lascivious slab of Sabbath funk."
7. Howlin' Rain - The Hanging Heart
8.
PG Six - The Dance
(from
Slightly Sorry
, which will be released in the U.K. on February 12th) Uncut: "a gorgeous, discreetly tough ballad that could have wafted out of Topanga Canyon in 1970."
9.
Ghost - Water Door Yellow Gate
(from
In Stormy Nights
, which will be released in the U.K. on January 22nd) Uncut... discusses the track "Garecki No Toshi", also from
In Stormy Nights
. Oops. That one is dubbed "martial music designed to soundtrack a world at war, but also suggesting a rioutous psychedelic remake of
Braveheart
." Uncut also notes that the Japanese group won't tour the States until George Bush is no longer President.
10. Dead Meadow - Indian Bones
11. Wooden Wand - Portrait In The Clouds
12. Sunburned Hand Of The Man - Adult Costume
13. Jackie-O-Motherfucker - Hey Mr Sky