Air Announces European Tour, Plans U.S. Trek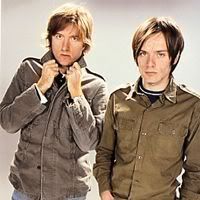 Air
has scheduled a dozen European concerts this March, starting in Glasgow on the 14th and ending in their native country with a concert in Paris on the 29th.
Following the duo's Glasgow-to-Paris jaunt, an
American tour is planned
. One date is already lined up:
Coachella, on April 29th
.
Air says they expect to play
"major festivals" in Europe and Japan
this summer, and keep touring for the rest of the year.
This exhaustive schedule is ostensibly in support of their album
Pocket Symphony
, which Air says will be available digitally everywhere except North America on February 19th and available in physical form everywhere (even in lowly North America!) on March 5th.
Air would perhaps thank you for your cooperation in maintaining the fiction that the album is not already available in digital form. You're the best! Or as Air might say - en Français - aw, screw it, three years of French and I can barely remember how to ask where the swimming pool is. Er, that wasn't what I imagined Air might say to you, although they might if the three of you were in a wacky play together. If you find yourself suddenly inspired to write such a play, I suggest it involve a will and mistaken identities. You could give it a title along the lines of Air Apparent, or possibly
Air Présomptif
for shows in France.
Air's Announced Concert Dates:
March:
14 - Glasgow ABC
15 - Manchester Academy
16 - London Forum
19 - Berlin Gleishalle
20 - Hamburg Docks
21 - Cologne E Werk
22 - Munich George Elser Halle
24 - Fribourg Frison
25 - Milan Alcatraz
27 - Amsterdam Meklweg Max
28 - Brussels Ancienne Belgique
29 - Paris La Cigale
April:
29 - Indio, CA -
Coachella
Yes, these tracks have something in common...
Air - Kelly Watch The Stars (American Girls remix by Phoenix)
(available on the "All I Need" single)
Air (Feat. Thomas Mars) - Easy Going Woman
(available on the
Surfing on a Rocket
EP, also a bonus track on the Japanese edition of
Talkie Walkie
)