Rock and Roll Fantasy Camp Goes to London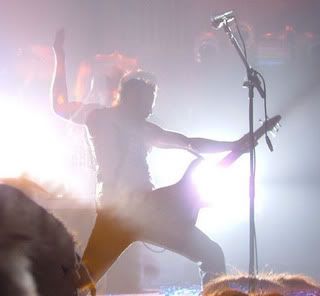 Wish you could jam with
Radiohead
or
The White Stripes
? Can't help you.
But if you've a hankering for jam sessions, daily meals,
and
transportation spent with Spencer Davis,
Jack Bruce
of Cream,
Paul Carrack
, or Spike Edney,
London Rock and Roll Fantasy Camp
may be for you!
The camp runs this May 24-28 in London, with an optional sixth night in Liverpool. Expect a "MAJOR rockstar guest TBD!" The mystery musician may take the place of Carrack if he discovers the website refers to him as "Paul carrack of Sqeeze and Mike & the Mechanics".
The misspellings were likely the result of a webpage written very quickly and not proofread rather than an intentional slight against Carrack.
A bit of evidence:
"Record with expert recording engineers including Will Schillinger (attach Bio)!!"
Poor Will Schillinger. His bio wasn't attached, they didn't notice that embarrassing notation, he only got two exclamation points after mentioning recording with him as a selling point, and above that -- considered more of a selling point -- is "Be shuttled on the Gibson tour bus!" At least it only got one exclamation point.
So there are still a few kinks in the system (though not in the camp). Maybe it's an adjustment period. After all, it's the first time they're taking the Rock and Roll Fantasy Camp to London (Hollywood is their usual stomping - er, rocking - ground).
Typos are surely worth overlooking for the opportunity to get an autograph from Procol Harum's Gary Brooker and compete in the Battle of the Bands at Abbey Road's Studios.
And if you can't make it to Rock and Roll Fantasy Camp, but would like to be frequently asked whether you went, perhaps you'd like to purchase a
Rock and Roll Fantasy Camp tour jacket
. They're currently on sale for $249.99 - that's $50.00 off (that's U.S. dollars, guv'nor).
For the record, the site's "Virtual Shopping" designation is probably not but
could
be an ominous disclaimer. If you give them your credit card number, in your mind you could be placing an order, and actually shopping. Maybe the site is subtly warning people that all transactions really consist of people pretending to buy various items such as Rock and Roll Fantasy Camp hats and shirts. That would be a terrible scam. I think anyone ever affiliated with Mike & the Mechanics and/or Squeeze would be appalled by it. Anyone in Bad Company? All bets are off.
Procol Harum - Shine On Brightly
(available on
The Best of Procol Harum
)
Cream - Doing That Scrapyard Thing
(available on
The Best of Cream
)
Gene Summers - School Of Rock & Roll
(available on
The Ultimate School of Rock & Roll
)
Squeeze - Tempted
(available on
Squeeze - Greatest Hits
)