Triptych On The Way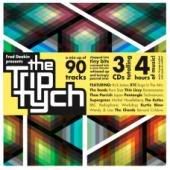 Although some continue to lament the
loss of the mix tape
, mix CDs at least, are thriving.
(Which is not to say that I don't miss mix tapes, or am not looking forward to reading
Love Is A Mix Tape
, which looks really good.)
Lemon Jelly
's Fred Deakin has compiled, essentially a very long - 90 track - "mix CD" - so long it takes up three CDs. It's called
The Triptych
. It too is
"a work of art... divided into three sections"
. Perhaps, like with a traditional triptych, the central part (disc 2) is the most important part of the piece.
NME posted a
version of the track listing
, as well as a release date, but the accurate track listing and release date (February 13) are most likely those in the label's press release, first posted at Lemon Jelly's
official forum
. A capella renditions, remixes, and live songs are included in this track listing, and not in NME's. Also, NME's version includes a song called "The Gifted One" by "Jemini". The label's version replaces that with "Funk Soul Sensation" by "Jemini The Gifted One", which seems more likely.
The Likelier Track Listing:
Disc 1:
1. Badmarsh & Shri - Appa
2. Impossible Dreamers - Spin
3. Flying Fish - Mr Matawe
4. The Selecter - The Selecter
5. Bobby Nunn - Private Party
6. Mr Flash - Disco Dynamite
7. BBC Radiophonic Workshop - Amor Dei
8. Penguin Café Orchestra - Perpetuum Mobile
9. Pete Seeger - Ode To Joy
10. Sharon Phillips - Want 2 Need 2 (Trentemoller Remix)
11. Gaspar Lawal - Kita Kita
12. Dave Angel - Funk Music (Tonka Remix)
13. Japan - Adolescent Sex
14. Nick Straker - A Touch Of Jazz
15. Billy Swan - Don't Be Cruel
16. Mama Cass - One Way Ticket
17. Native Force - Music Box
18. Thin Lizzy - The Rocker
19. Jemini The Gifted One - Funk Soul Sensation
20. Siouxsie & The Banshees - Supernatural Thing
21. N.O.R.E. - Nothin'
22. Graffiti - Come Together
23. Tomahawk - Straw Dogs
24. Billy Hawks - Oooh Baby (I Believe I'm Losing You)
25. Supergrass - Coffee In The Pot
26. Bob Wills & The Texas Playboys - St Louis Blues
27. Don Covay - It's Better To Have (And Don't Need)
28. Saint Etienne - He's On The Phone
29. Jesus & Mary Chain - Sometimes Always
30. Bernard Cribbins - My Resistance Is Low
Disc 2:
1. Andy Statman - Flatbush Waltz
2. Etienne De Crecy - Grokster
3. Technotronic - Get Up (Before The Night Is Over) - A cappella
4. Kaori - Good Life
5. Mezzoforte - Garden Party
6. Leo Kottke - Cripple Creek
7. The Toes - Chrome Radio Rocks
8. Kurtis Blow - Xmas Rapping
9. Bananarama - Movin' On (Tony Humphries Remix)
10. Ege Bam Yasi - I Want More
11. John Foxx - Mr No
12. Todd Rundgren - Torch Song
13. XTC - A Dictionary Of Modern Marriage
14. Das EFX - Real Hip Hop - A cappella
15. Living Colour - Love Rears Its Ugly Head (Soul Power Hip Hop Remix)
16. Dudley Moore - Amalgam
17. Theo Parrish - Falling Up (Carl Craig Remix)
18. Jesse Johnson - Crazy
19. Man Parrish - Boogie Down Bronx
20. Michael Nesmith - Calico Girlfriend
21. Ramsey Lewis - Blue Bongo
22. Ray Bryant - Madison Time
23. Wally Whyton - Don't You Push Me Down
24. P Funk Allstars - Hydraulic Pump
25. George Michael - Cars And Trains
26. The Seeds - Can't Seem To Make You Mine
27. Sounds Orchestral - Moonshot
28. Pentangle - Night Flight
29. Anita Kerr Quartet - Wayfaring Stranger
30. Drilla - Mama Says
31. The Rutles - Let's Be Natural
Disc 3:
1. Steve Miller - Threshold
2. Grand Funk Railroad - Words Of Wisedam
3. James Last - Feeling Alright
4. The Chords - Maybe Tomorrow
5. Roni Size - Scrambled Eggs
6. Gianfranco Plenzio - Musica Per Anna
7. Grand Puba - I Like It
8. The Durutti Column - Madeleine
9. Kenny Rankin - Minuet
1. Bugz In The Attic - Happy Dayz
11. Acen - Dirty Raver
12. Wuf Ticket - The Key
13. Michel Houellebecq - Celibataires
14. Peak - Get Carter
15. Shades Of Rhythm - Homicide
16. Freq Nasty - That's My Style
17. Miriam Makeba - Ring Bell
18. Rick James - Pass The Joint
19. Madness - The Bed And Breakfast Man
20. Maxwell - Get To Know You
21. D Train - Trying To Get Over
22. Cornershop featuring MIA - Topknot
23. Wendy & Lisa - Are You My Baby
24. The Five Stairsteps - Oooh Child
25. Spirit - America The Beautiful/The Times They Are A Changin'
26. Ian O'Brien - Midday Sun
27. The Isley Brothers - Brown Eyed Girl
28. Tim Hardin - Misty Roses (Live)
29. Bob Wallis - Three Live Wires