Efterklang's Numbered Under Giant Trees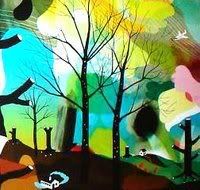 Danish experimental, electronic/rock band
Efterklang
not only collaborates with the likes of
Amiina
members (half the group played on Efterklang's first album,
Tripper
), they also signed Amiina to their own, Danish label,
Rumraket
.
Next up, and ahead of the band's forthcoming full-length album, is a 5-track EP,
Under Giant Trees
. "Towards the Bare Hill", the track posted today sounds like Psapp met Beirut on that Bare Hill. A similarity to Amiina might be noted in Efterklang's sound as well, and perhaps one to Explosions in the Sky as well... particularly in their songs that move from quiet to loud.
The band says none of the tracks on the forthcoming EP will appear on the next album.
Under Giant Trees
will be available April 2nd in two limited-edition formats. 4,500 numbered CDs and 1,200 numbered 12" white vinyl copies will be released unto the world.
"Swarming" video
:
Artist website:
efterklang.net
For
Under Giant Trees
:
Label website:
theleaflabel.com
(everywhere except...)
rumraket.net
(the band's label, in Denmark)
Debut album
Tripper
and single "Swarming" were released by Leaf. The
Springer
EP was originally released by EP and later released by Leaf.
Burnt Toast Vinyl
issued the
One-Sided LP
record, which was, yes, indeed, a record, specifically a 12" record. All this info is from the band's
discography - ordering info
, track listings, and other information is available there. Whew.
Efterklang - Towards The Bare Hill
(from
Under Giant Trees
)