Happy St. Patrick's Day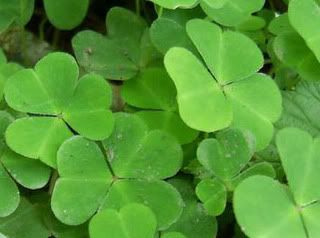 It's hard to know where to turn to for delightful factoids about St. Patrick's Day this year. It seems wrong to rely upon "America's Newspaper",
USA Today
for information about an Irish holiday, even if the information comes in a colorful chart and/or graph format. And with
Wikipedia
cyber-hooligans having recently falsely reported the death of beloved former comedian Sinbad, that site's hard to trust... Wait, is he still a comedian? Is he still beloved? Well, how am I supposed to check
now?
Damn pranksters.
I've got
"Bono Outbids Everyone At Charity Auction For Bono-Autographed Guitar"
but while the story seems to check out on the surface with its suggestion that he's both charitable and pompous, I suspect it's phony. Mostly because it's from
The Onion
.
The Onion article is more "related to an Irish celebrity" than to St. Patrick's Day. Yet St. Patrick wasn't even Irish - not by birth or parentage anyway - so I'm guessing everyone has already been pretty much making up their own rules for a long time, way before people started dying rivers green.
~ Happy St. Patrick's Day. ~
Hothouse Flowers - Sí Do Mhamó Í (Live)
(on
Into Your Heart
)
Lyrics, as well as an English translation for this traditional Irish tune, can be found at the
band's website
.
Roesy - Trailing The True Star
(on
Live & Rare Vol.1 - 13 exclusive tracks from Ireland's favorite acts
)
Duke Special - Portrait
(on
Songs From The Deep Forest
)
The Frames - People Get Ready
(on
The Cost
)