Hafdis Huld - As Evil As Snuggling?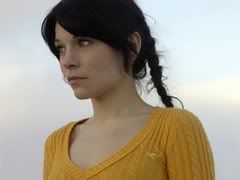 There's no U.S. release date yet for
Hafdis Huld
's alt-pop
Dirty Paper Cup
(first released in October 2006), but these things take time. In some European countries, the former
Gus Gus
singer has already released her fourth single from the album ("Diamonds On My Belly").
This Wednesday, March 28th, Huld plays London's
ME Club
, with Eg White, (doors are at 7:30). April 20th, she's part of the
Camden Crawl
line-up, again in London. On April 24th she plays Le Mandala in Toulouse, France, with Tara King Theory.
The setting will be mostly France, with one stop each in London and Brussels when Huld joins the line-up of the French festival
Les Femmes S'en Mêlent
("The women who interfere?" "The meddling women?" Maybe it's meant more like "The troublemaking women" -- it seems proudly mischievous.)
The Festival runs April 18 to May 10th, but Huld isn't playing every date of
Les Femmes S'en Mêlent
and has scheduled other shows during the Festival's run.
Babel Fish Translation
doesn't perfectly convey the meaning of the Festival's
write-up about Huld
, but the imperfect translation is rather charming:
"It returns to us today with its first project solo, ' Dirty Paper Cup', a semi-sparkling album, concentrated small pop-folk parts, with arrangements as malignant as cêlins."
As for that tricky word "cêlins", a lot of French-English dictionaries are stumped by it. If they meant "câlins", it apparently means
means cuddles
, or possibly
snuggling
.
Can we re-translate "malignant" to "evil"? Methinks it works better. The review, made more offbeat by the inevitable "flaws" of translation, is rather well-suited to Huld's quirky music.
"Simple and spontaneous, but of an extreme sensitivity, the 13 refreshing songs which make this first promising disc us melt in the ears like snowflakes to the sun. The perfect wafer to face this painful winter period all carefully."
That's almost certainly a rave, and now I'm picturing her songs as chocolates, some sweet, some bittersweet. In the unlikely event that the
Les Femmes S'en Mêlent
folks really referred to Huld as "its", it was probably part of some interfering/troublemaking plan.
Hafdis Huld's Les Femmes S'en Mêlent Shows:
April 25 - Bordeaux, France - BT59 (with Electrelane, Au Revoir Simone)
April 26 - Amiens, France - Lune Des Pirates (with Elk City)
April 27 - Vendôme, France - Chapelle (with Au Revoir Simone, Laura Veirs)
April 28 - Nevers, France - Café Charbon (with Elk City)
April 29 - Grenoble, France - Le Ciel (and "guest" TBA)
May 2 - London - Borderline (with Bunny Rabbit, Klima)
May 4 - Dijon, France - Athenum (with Frida Hyvönen)
May 5 - Belfort, France - La Poudrière (with Tender Forever, Maria Taylor)
May 7 - Brussels - La Rotonde (with Frida Hyvönen, Maria Taylor)
Huld's Other Shows:
March 28 - London -
ME Club
(with Eg White, doors at 7:30)
April 20 - London -
Camden Crawl
April 24 - Toulouse, France - Le Mandala (with Tara King Theory)
May 14 - London -
Scala
(supporting Simple Kid)
July 28 - Huntingdon, England -
The Secret Garden Party
(the Festival says their website will launch April 1st.)
August 5 - Ledbury, England -
Big Chill Festival
The
video
for "Diamonds On My Belly":