Ciarán Flynn - Irish Folk-Rocker is Ready to Be Heartbroken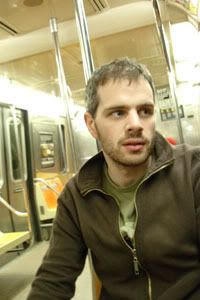 Dublin folk-rock singer-songwriter
Ciarán Flynn
started his career singing classic ballads as well as
"attempting Dylan, Donovan, Simon & Garfunkel, Planxty, Neil Young, Woody Guthrie, Tracy Chapman and Radiohead"
.
The work of poet
Patrick Kavanagh
made an impression; so did the music of Nick Drake, and others. Flynn started playing the guitar, and writing songs, many fed by his
experiences while traveling
. He says "his version of political and social commentary reflect intimate moments in his own life or adopt the circumstance of others close to him."
At some point down the road, he developed his current sound, which is refreshing and distinctive. While Flynn doesn't sound just like anyone else, at times his music evokes some of the influences he names — like Bob Dylan, clearly, surprisingly, and charmingly. On a similarly charming note: there's a sweet shoutout to Suzanne Vega in "Girl Living In New York City" ("A toned cathedral bell,/Just like Suzanne said/From Tom's Diner")
Flynn's music also draws thoughts of some artists he apparently hasn't named as influences. The addition of a violin on songs including the earnest "Stay The Night" brings Seth Lakeman, another emotional Irish singer, to mind, but Flynn's music is more modern. On "Good Friday?", he delves into religious subject matter with a fearlessness and intensity reminiscent of Billy Bragg and Lloyd Cole.
Flynn's songs are compelling, often addressing matters of the heart with a tender vulnerability and a sense of quiet resignation that still leaves the door open to hope. His beautiful and delightfully Irish voice also merits a mention.
Music from his sold-out
New York Sessions
EP and several
live You Tube clips
are available at
Flynn's website
.
He's playing two different concerts in New York City in April. April 19th is Part 1: The Orphaned Set at
Rockwood Music Hall
. The following night,
Pianos
hosts Part 2: The HalfLight Set. This is a great concept. Dublin concerts are upcoming.
Ciaran Flynn - Stay The Night
(on the
New York Sessions
EP, which is sold out. A new EP will be available soon.)
Seven more songs
are available on the download page of his website, along with several live YouTube clips. The 64 bitrate on many of the MP3s isn't optimal, and it's on one song identified as "CD quality", which must be a slip. The lower bitrate doesn't especially bother me because he's generously giving so much music away and because he's not a very well-established artist, for lack of a better turn of phrase. ("Stay The Night", the MP3 I posted, is at a 128 bitrate, which is keen.)
Ciarán Flynn's Upcoming Shows:
April 19 - New York City -
Rockwood Music Hall
(Part 1: The Orphaned Set) - from 7 PM
April 20 - New York City -
Pianos
(Part 2: The HalfLight Set) - from 8 PM, according to his website. According to Pianos, his
set starts at 7 PM
, in the lounge. Another artist has a set scheduled for 8 PM, and for what its worth Pianos asks people to "Please note that all listed set times are actual onstage start times".
A couple of concert clips:
"Stay The Night"
:
"Good Friday?"
: