Brian Eno's 77 Million Paintings Are America-Bound, Already in Monitors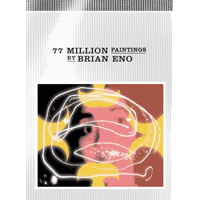 Wired
brings news of the first time Brian Eno's
77 Million Paintings
exhibit will travel to America.
The
77 Million Paintings
are formed by a
randomly-selected, constantly changing combination of high-resolution images
. To match the concept of the artwork, Eno's ambient soundtrack also continually changes.
If you won't be in the San Francisco area to catch the show, or just have an aversion to the
Yerba Buena Center for the Arts
, there's also a
home version
, which you can run on your computer.
Even if you've got an extremely large monitor, seeing Eno's artwork there won't feel quite like seeing it in a museum setting. In a
video interview
made to promote the home version, Eno calls it "a little bit like the difference between going to a performance of music and putting on a record of that music."
Home version: the user is able to alter the speed at which the art changes. Museum: not so much. Home: you can shut the computer off. Museum: they'll get quite cross with you if you try that. (Also, alas, home: some reports of technical glitches, possibly most likely with Macintosh owners. Museum: probably less likely to have glitches.)
The blink-and-you'll-miss-it exhibit over at The Yerba Buena Center runs June 29th and June 30th, 8 PM to 2 AM (general admission) and July 1st, 7 PM to midnight for charter members of
The Long Now Foundation
, which is presenting the exhibit. Charter memberships are available, and it should come as no surprise that Brian Eno is a charter member of the non-profit organization, which advocates a "slower/better" mindset as well as thinking in terms of the next 10,000 years (that'll slow you down, alright). Tickets are $25 each; $20 for students and seniors. I'm a
math atheist
, but if this was on a per-painting basis, that would probably... be... a really good deal.
Eno's promotional
video
:
In the spirit of the controlled-randomness of the home version of
77
, a selection of 7 songs selected, described (or not) with a sort of controlled randomness:
Architecture In Helsinki - Tiny Paintings
(on
In Case We Die
)
Ursula Points - Gone To Stay
(on
Light Up a Galaxy
) Pretty song bridges the gap between alt-pop and alt-rock... or possibly travels that bridge during the song.
1 Giant Leap (feat. Michael Stipe & Asha Bhosle) - The Way You Dream
(on
1 Giant Leap
, etc.) Mellow, Stipey trip-hop/world/electronic
The Aluminum Group - Sweet Child O' Mine
(On
Wonder Boy Plus
) Beautiful cover of, yes, the Guns N' Roses song. The Aluminum Group has contributed stellar covers to several compilations, including albums paying homage to Kate Bush and The Human League. They're rather good at originals too.
Alasdair Roberts - When A Man's In Love He Feels No Cold
(on
Farewell Sorrow
) Gentle, pretty folk/rock sung with a dang charming accent, which at least across the pond, where we like that, might help him "get away" with singing, "So bake for us the bridal bread" without preceding it with "please" or following it up later with "So sorry for not saying 'please' before/Was totally caught up in the excitement of/my impending nuptials."
Björk - Desired Constellation
(on Medúlla, etc.)
J Xaverre - Ex Wonderboy
(on
These Acid Stars
) A gorgeous song about alienation and self-deception. Hmm. That isn't much of a "pitch", and I really love this song a lot. (Let's try again:) I love this song a lot. I'm tired. Why did I save this one for last? Is it related to the reason I've been meaning to post this song for so long but haven't found the right post for it?
In case I don't get a chance to say so tomorrow, enjoy the
Blue Moon
!