Top 50 Songs of 2007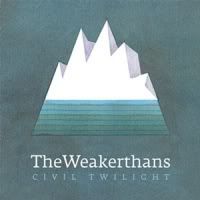 2007 was a great year for music. Not great enough to merit some sort of "top
100
songs of the year" list, mind you, but a
pretty great
year. Therefore this year's top songs list has been expanded to a whopping (but-not-bloated) 50-tune size. The list is packed with quality, delightful music. Another post, which will include Kofi's hat's 2007 Top Album and EP picks, is still to come.
You can read more about the quality music in this post at your local library! (Or at the artists' websites, I suppose.)
1.
The Weakerthans
- "Civil Twilight"
A wistful, lovelorn tale of a lost opportunity for possible romance, set inside a Canadian bus, somehow doesn't sound cheerful. The Weakerthans' magic still somehow produces a happiness-inducing, highly-danceable song.
2.
The Killers
- "Read My Mind"
For a band that often projects a sense of drama and romance, it's hard to recall a time they've put both to better effect.
3.
Aqualung
- "Broken Bones"
This touching apocalyptic love song fuzzes in-and-out, increasing its desperate edge. "Broken" edges out the also-excellent "Vapour Trail"
4. Aereogramme and Hal Duncan - "If You Love Me You'd Destroy Me"
"I'll give you the secrets that no one else knows
Stripping my soul as I strip off my clothes"
For the
Ballads of the Book
compilation, Scottish writers and poets penned tracks performed by Scottish singers and bands. At the album's
website
, you can check out the lyrics to this track and streaming audio of it, and do likewise for other tracks on this impressive collection. Even if you only liked "Destroy", it'd be ample reason to join me in hoping for
Ballads II: The Revenge of the Kilt
.
5.
Lucky Soul
- "My Darling, Anything"
Lucky Soul made the most irresistibly catchy retro-pop to be found this year. I prefer this one slightly over "My Brittle Heart", but they're both wonderful, and very similar: sweet, fizzy, winsome, and melodramatic in that old-fashioned, pop-song way. I find "Darling" a bit catchier ("Every fourth beat is missing/If it ain't missing then it's skip, skip, skip, skip, skip, skip, skipping").
6.
The Mary Timony Band
- "Curious Minds"
7.
LCD Soundsysystem
- "Someone Great"
8.
Aereogramme
- "Dissolve"
I'm counting Aerogramme and Hal Duncan as distinct from Aereogramme so I can sneak this song on the list. Hey, the group broke up this year. Who knows how long it may be until they reunite and give us new material?
9.
New Young Pony Club
- "The Get-Go" (barely edges out "The Bomb, which is also stellar)
10.
Rich Aucoin
- "10,432 Cuts For The US (An Exploding)"
11.
The Hours
- "Icarus"
12.
The Brunettes
- "Structure and Cosmetics" (edges out "Her Hairagami Set", which is great except for the last, unnecessary minute-and-a-half.)
13.
Matt Pond PA
- "Locate the Pieces"
14.
Architecture in Helsinki
- "Heart it Races"
15.
The Cinematics
- "Break"
16.
Athlete
- "Best Not to Think About It" - the band often plays an acoustic version of this song in concert. This recent
video
shows how well it works as an acoustic song:
17.
The Tough Alliance
- "1981"
18.
Los Campesinos!
- "C is the Heavenly Option" (cover of the song by Heavenly feat. Calvin Johnson)
19.
Oh Laura
- "Out of Bounds"
20.
Liam Finn
- "Better to Be"
21.
Bishop Allen
- "Click Click Click Click"
22.
The Go! Team
- "Fake I.D."
23.
The Concretes
- "A Whales Heart"
24.
All Smiles - Moth in a Cloud of Smoke
(right-click to download it)
25.
Thirteen Senses
- "Follow Me"
26.
Tokyo Police Club
- "Box"
27.
Trembling Blue Stars
- "Idyllwild"
28.
Maxïmo Park
- "Girls Who Play Guitars"
29.
Minus the Bear
- "Hooray (Dark Baby Remix)" (from the band's remix album
Interpretaciones Del Oso
)
30.
Maps
- "Liquid Sugar"
31.
Andrew Bird
- "Plasticities"
32.
David Usher
- "The Music"
33.
Dave Gahan
- "Saw Something"
34.
Ash
- "You Can't Have It All"
35.
Rufus Wainwright
- "Slideshow"
36.
Explosions In The Sky
"What Do You Go Home To"
37.
Kylie Minogue
- "Love is the Drug" (Roxy Music cover, from
Radio 1 Established 1967
)
38.
Asha Ali
- "A Promise Broken"
39.
The Rakes
- "Down with Moonlight"
40.
Joy Zipper
- "Wave of Mutilation" (Pixies cover, on
Dig for Fire: A Tribute to Pixies
)
41.
The National
- "Mistaken for Strangers"
42.
The Field
- "Silent"
43.
Maia Hirasawa
- "And I Found This Boy"
44.
Electric Soft Parade
- "Misunderstanding"
45.
Freezepop
- "Swimming Pool"
46.
Blonde Redhead
- "23"
47.
Royseven
- "I'm Revived" -
the video
:
48.
Club 8
- "Heaven"
49.
Band of Horses
- No One's Gonna Love You"
[TIE]
* 50.
Blind Archery Club
- "Off the Deep End"
*50 Patrick Wolf - "The Magic Position"
Post-script:
The process of checking which songs that seemed to be released in 2007 were
truly
songs first released this year was painstaking, both because it was time-consuming and tedious, and because it excluded some kickass music. I'll mention just one "not actually a 2007" song, because the group's website is so much fun, and well worth exploring. The song is "De Reiziger" by Dutch group
De Kift
(if you like Beirut, you'd probably dig it.)
Edited to add Post-script #2:

Patrick Wolf's "The Magic Position" was erroneously excluded from the list when it was posted. The mistake was probably the result of an editing error on the part of one of my well-meaning, semi-competent interns. I'm adding the song in a tie for #50.