Gift Guide '07: Merry Christmas, Here's a Halitosis Detector!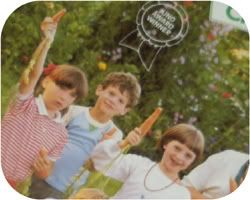 Yikes, Christmas is drawing near. Here, then, the Kofi's hat 2007 Gift Guide, a project I decided for some reason to undertake! The gifts are loosely organized in delightfully-overlapping, grammatically-questionable, verbtastic categories. Merry Whatever You Celebrate and/or Believe!
Write

Vintage Vantage's
linernotebooks
, at $15-34 each, aren't cheap, but they are stylin'. Vintage LP covers are used for the front and back covers of these spiral notebooks.
The bizarre version (pictured above) featuring a bunch of children holding carrots aloft (
kids carrots
, $24, Vintage Vantage) is my favorite. It seems to use a French-language album intended for children and the young at heart... both groups who could do with a little more Vitamin A in their diets? There are several Elton John linernotebooks; same goes for Billy Joel. If you dig Neil Diamond or Mötley Crüe, you're in luck.
No one should get even such a cool notebook and not get a writing implement. It's even better if they get an unusual one.
JetPens
is one source for unique and interesting pens, including many from Japan. Shipping is free for orders above $25 and it should be easy to find enough keen items to reach that $25 mark. For starters, there's the
Dong-A Popcorn Puffy Paint Pen
($12, 10-color set), which
puffs up under the high heat of a blow-dryer
. Okay, so it's not necessarily recommended for your environmentally-conscious friends and relatives, unless you think they'd be so amused by the pens' name they'd forget how much energy they're using with the blow-dryer.
Read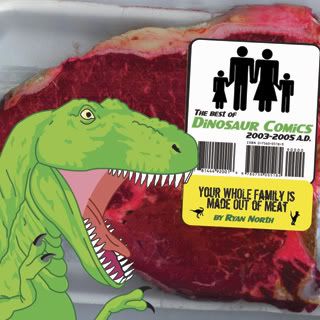 Christmas is good for lying around looking at books that, well, are easy to read, and can be quoted aloud, to the delight or irritation of gathered loved ones. Comic strip collections are a great choice if you have a good handle on your giftee's sense of humor. FWIW, this year I'm gifting
Dinosaur Comics: 2003-2005 A.D.
($14.99) and collections of these strips:
Pearls Before Swine
,
Dilbert
, and
Foxtrot
.
I also recommend
Nick Hornby
's
The Polysyllabic Spree
($11.20), a collection of his
"Stuff I've Been Reading"
columns from
The Believer
. Each one begins with a list of the books he bought and read that month. It's remarkably entertaining to read Hornby discuss what he's been reading. As a fan of tangents, I love it when some interesting topic drives him somewhat to distraction. He discusses people's tendency to send books because they think the writing is similar to his own or deals with subject matter reminiscent of his life. Matter-of-factly, yet eloquently, he writes:
"I can see why publishers do this, but the books that arrive in the post tend to be a distorted and somewhat unappetizing version of one's life and work. And what one wants to read, most of the time, is something that bears no reference to one's life and work."
So I'm not the only person who feels that way. Hornby's second collection of "Stuff I'm Reading" columns, Housekeeping vs. the Dirt ($11.20 at Amazon), was published last year. The McSweeney's Store is selling both books with a bonus Songbook CD for a cool $18. When they say Songbook is sold out, though, they must mean from their store, because it's still in-print and available from Amazon for $10.40; however it is the disc-less version.)

Also consider the following books (all prices are from Amazon and subject to change at their whimsy): My First Time: A Collection of First Punk Show Stories ($14.06), Meet Mr. Product: The Art of the Advertising Character ($11.53), Taking Things Seriously: 75 Objects with Unexpected Significance ($11.90), Super Normal: Sensations of the Ordinary ($23.07), The Hanna-Barbera Treasury ($29.70), Convergence Culture: Where Old and New Media Collide (19.77), Why Beautiful People Have More Daughters: From Dating, Shopping, and Praying to Going to War and Becoming a Billionaire-- Two Evolutionary Psychologists Explain Why We Do What We Do ($16.29; extra-long title thrown in for free), Forbidden LEGO: Build the Models Your Parents Warned You Against! ($16.47), Kaleidoscope: Ideas And Projects to Spark Your Creativity ($16.49), McSweeney's Issue 25 ($22) and/or a McSweeney's subscription, beginning with issue #26. A subscription to The Believer will set you back $45; the standard price for past issues is $8.00 - $10.00 (the latter are generally double issues). Several issues are currently on sale for $5.00 and $8.00. There are innumerable other fine publications you could sign your giftee up for but, beware, getting someone just a subscription can look a bit lazy and last-minute.

The New York Times has helpfully compiled a list of 10 Best Books of 2007, so that ought to pretty much cover your book-gifting needs. If it doesn't, for some odd reason, maybe their compilation of 100 Notable Books of 2007 will do the trick.

Whether you're stumped, it's too late to peruse gift guides, or your person just likes the gift of choosing their own things, there's always the option of gift certificates. Oh, gift certificates. You're like cash, except you can only be spent in certain locations, and sometimes you expire. But if cash seems tacky, a gift certificate can seem classy. A BookSense gift card can be used in person at 300+ independent bookstores and online at some stores and expresses support for the noble independent bookseller. A gift certificate to the giftee's local independent comics or music store also might be welcomed.


Listen


A mix CD made with care is a wonderful gift.

Albums, old or new, can be pretty cool too. I hesitate to delve into offering any music recommendations here; this isn't intended as a mini-year's-end-best-of-list. It's a brief, painfully incomplete list of recommended independent-label 2007 albums. No warranties are expressed or should be implied; your mileage may vary: Japancakes - Loveless, Woodpigeon - Songbook, The Weakerthans - Reunion Tour (if someone's been very good this year, you could get them a copy for their car, one for the office, one for each CD player at their home, and one for their significant other's CD player), Architecture in Helsinki - Places Like This (warning: they dance on the line between fun and annoying. Some people might well hate them. I think they're a lot of fun. But... yeah, I can see people hating them.), The Last Town Chorus - Wire Waltz

If you know they would be welcome—concert tickets are a cool gift.

At windchimes.com you can listen to various kinds of chimes, bells, gongs, and fountains before you buy.


Cook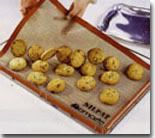 Cooking Light's Best Gifts For Cooks is a brief list, but it includes some cool items, like the silicone (and glass) Silpat mat which can be used to make baking surfaces nonstick ($12.50+, Chef's Boutique, 10% off if you buy 10 or more.)

Also gift-worthy: flexible silicone mixing bowls ($44.95 for 3 red bowls, sized 1, 1 1/2 and 2 quart, Chef's Resource). They allow one to easily pour ingredients from one bowl to another, or add them to an entirely non-bowl arena such as a food processor. It's like a whole new world of convenience.


If you're jumping on the silicone-kitchen train for your giftee, consider getting them an expandable/collapsible silicone collander ($29.99, Bed, Bath, and Beyond. Available in red, blue, and gray.) Also dang convenient, and, well, cute. I recently gifted myself with a 12-cup silicone muffin pan; it's all about the silicone at the moment. Hurry, and help your loved ones replace all their bakeware with silicone before we find out it's somehow flawed and we have to switch again.

ReusableBags.com offers several Lunch kits; you may have a hard time deciding which one (or two) to get. The To-Go Ware Kit has utensils made from sustainably-harvested bamboo, two dishwasher-safe food containers that fit together, a stainless steel carrier, and a plate, The carrycase is made by a women's co-op in Thailand. A few kits include Bento boxes.

Also consider: Mark Bittman's massive, 1008-page How to Cook Everything Vegetarian ($23.10) or go the other way with the retro Gastroanomalies: Questionable Culinary Creations from the Golden Age of American Cookery ($16.29).

Rishi Tea is organic and fair-trade certified, and could make a refreshing alternative to the flavored coffees often given at the holidays.

If it's at the last minute and you're desperate, go for some unusual salsas (remember to get chips) or baking mixes from Williams Sonoma.


Play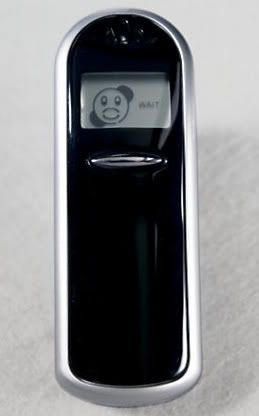 It may delight, mildly amuse, or horrify its recipient, so proceed with caution before plunking down $25 for that halitosis detector (Restoration Hardware). For the record, it is pretty cute and detects a whopping "four escalating stages of unfreshness". It's technically suitable for ages 10+, and it might thrill (rather than traumatize) the right 11 year-old. Still... even if a kid liked it, I shudder at the thought of the childhood experimentation that might take place trying to reach and maintain level 3 or 4 "unfreshness".

If you are going ahead with the halitosis detector, consider adding one or two garlic mustards to help your giftee achieve terrible breath as they play with their new toy (what? It's fun if you're a grown-up.) I like Robert Rothschild's champagne garlic mustard ($7.25, Mount Horeb Mustard Museum Gift Shop). Add at least a couple packs of breath mints to complete your present.

No, I'm not doing the Halitosis Gift Basket for anyone (not this year anyway), but in the "fun and nonsensical" category, I did get my brother a Camoflage Marshmallow Shooter with a simulated laser sight. Naturally, I also got him a bag of mini-marshmallows, which I am hoping he will mostly shoot at targets other than me.

A Flybar seems like a great idea that kids won't do anything nutty with... hey, where's my couch?

Donate

The altruistic route: if you know a cause or group that's especially important to someone, it's easy. If they say something vague about not wanting a present and "just giving to charity", you could punish them for their vagueness with a gift toward an organization with views you know they despise, or simply purchase Charity Navigator gift card and force them, I mean, them decide where they would like to direct the donation. Yes, I can turn a charitable holiday gift into an opportunity to be vaguely sinister and underhanded; I am very proud.

See also: Fine Living's Guide to Gifts That Keep On Giving, even though they've obnoxiously divided it into eight pages.


Wear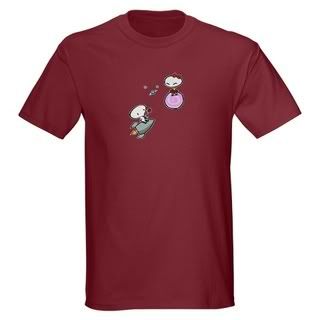 The Tiny Sepuku collection Dear Tiny Sepuku: One Little Cartoon's Bold and Bewildering Love Advice is sadly temporarily out-of-stock at Amazon, but there are some cute Tiny Sepuku tank tops, t-shirts, and hoodies available in a variety of colors ($17.99 - 28.99, Cafe Press, check the ordering deadlines of doom.)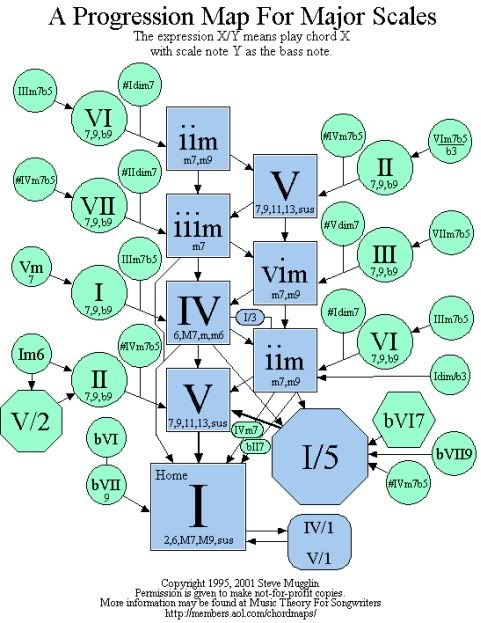 The chord progression map for major scales pictured above was created by Steve Mugglin of chordmaps.com. The design is available in convenient t-shirt form ($14.95 sizes S-XL, then $18.95+, Zazzle). Six different versions of the shirt are available, with different colors used in the map. (As a side note, so to speak: a keen fractal design shirt is also available.) The shirts, sadly, are all white. Spend more than $75 from Zazzle and get free shipping using the code FREESHIPMORE through December 10th. This code and lots more t-shirt coupon codes and info about holiday sales at t-shirt stores can be found at The Daily Tee.

Retail Me Not is another great source of coupon codes; it's worth a search there, and a Google search before you shop, especially if you're buying online. There are lots of discounts and coupon codes to be found year-round, but especially at the holidays.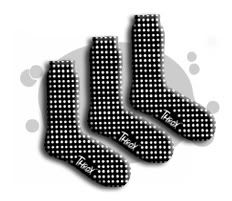 When you buy Throx, you get three socks, so you're ready for the (inevitable?) loss of one. Paul Frank also sells a 3-pack of socks ($30, free shipping through 12/21); perhaps this is a trend. If so, I hope we don't go evolving another foot, adapting to having all those extra socks.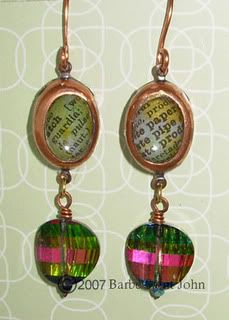 At Holiday Felt Club XL, I sought a pair of earrings that matched the dress I planned to wear on Thanksgiving, and lucked into a lovely, wordy pair made by Barbe Saint John, namely her Sparkling Conversation mixed media earrings ($20), made using vintage paper from a French dictionary and Swarovski potato chip crystal beads. They are indeed sparkly and have a whimsical charm I love.

Beautiful, city-inspired and steampunk-influenced necklaces and other items someone might deserve if they've been reasonably good this year are available from Barbe Saint John's Saints & Sinner's shop.

In addition to crafting jewelry, she handspins yarn. 100% of the net proceeds from her "Scrappy Cats" handspun yarns are donated to A Place to Bark, a Portland, TN animal rescue non-profit organization.

Any jewelry-wearing LEGO fans on your shopping list? Consider getting them something from Kasimade.com, where the jewelry is both ridiculously inexpensive (earrings as cheap as $3.00) and completely adorable. I bought a $15.00 necklace from Kasi at Felt Club XL. I love it and it fetches loads of compliments.
It's not a Felt Club find, but nonetheless I think this steampunk ring ($10, Steampunkadelic's Etsy shop) is pretty cool.

A last note related, more-or-less, to things one wears— if you're getting someone cosmetics, perfume, or bath products, please make sure the company doesn't test on animals. If a product's packaging (or their website) doesn't say one way or the other, odds are they do conduct animal testing.
Other Stuff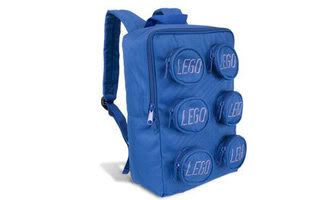 If you're buying for a LEGO fan, whether or not they wear jewelry, for goodness sake, check out the Official LEGO shop. They sell loads of cool exclusive stuff you won't realize you—I mean the person you're shopping for—needed until seeing it there. They might have a refrigerator that dispenses ice cubes, but does their fridge give them LEGO brick-shaped ice cubes ($7.99)? I didn't think so. How 'bout a sports bag in that same familiar shape? ($24.99, only available in blue) Or a backpack? ($19.99, available in pink or blue)

Adding an actual LEGO toy would be fitting and fun, and you can get something cool for very little money. The shop's sales and discounts section contains heavily-discounted items. There are some pretty inexpensive items elsewhere, like Mini Animals and the Mini Construction toy (each is $4.99).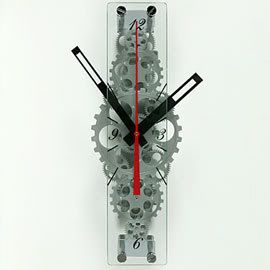 Giving someone a clock might be interpreted as a message ("maybe now you'll start showing up on time"). Reduce the odds of offending with your timely gift by giving a clock that's more work-of-art than timepiece. Oh, this Gear clock ($124.95, Z Gallerie) tells time fine... probably. But who can tell for sure?

Fans of puns and/or psychology might appreciate the Freudian sips mug ($12.95, The Unemployed Philosophers Guild). Or perhaps your mother would like a Freudian slippers ($24, Uncommon Goods)? Uncommon Goods also sells $12 Freudian slips "sticky notes", and perhaps if you're shopping for someone who collects "sticky notes", you should get them. Otherwise, I think you shouldn't.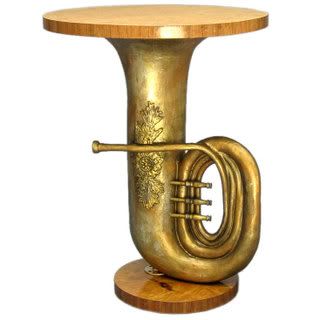 A distinctive table, perhaps one that resembles a tuba, like the one pictured above, $1,600 from San Francisco's Sultana, would make a surprising and interesting present. If you love someone who would love a Palm tree table but you would not love to spend more than $4,000 on it, why Sultana may be able to help you out there too.

Unless someone else buys it first. Then you might be left pondering whether your loved one would prefer, say, the rather cool 1940s Composer's Cabinet or possibly the rather disturbingly-named "Mod Fiberglass Phalic [sic] Lamps" (choose the Cabinet! If they have the space and a use for it!)


Other Gift Guides


The New York Times Holiday Gift Guide also recommends presents in non-literary categories—music, technology, dining & wine, and fashion, style and home.

Wired's Gift Guides feature a roundup of their Favorite Products as well as Gifts For Every Geek (ideas for a Treehugger, Student, Foodie, etc.)

Speaking of treehuggers, this year's Treehugger.com Gift Guide offers a list of Worthy Causes for the Holiday Season and ideas for what to get, er, "the geek" (man, am I'm confused). Is there one type of geek, or many? Do the treehugger people just not want to consider themselves geeks? Geekery is good, treehuggers! Own your geekdom!

The Treehugger geeks also suggest presents for other "types" like "the yoga fiend", "the DIYer", and "the new parents" (it's not there, but isn't "your baby-sitting services" what new parents most want? It gives them some time to get away on their own, and keeps them from being so desperate for a night out that they do something rash like taking the baby with them to the movies.)

If you're buying for kids, check out the eclectic suggestions from Wired's GeekDad Gift Guide and the Z Recommends 2007 Gift Guide.

The Make Blog: Open Source Gift Guide and their Steampunk Gift Guide. (I hope next year's Steampunk Gift Guide will include something from Haruo Suekichi; I love his watches. It would help if they were sold someplace other than through his Japanese website.)

For 77 design gifts under $77, peruse the Core77 Ultimate Gift Guide. Core 77 recommends the same silverware as MAKE, which made me feel better that Core featured the bubble-blowing dish scrubber I had planned on including.

Martha Stewart has Handmade Gift ideas (of course she does!) She also has a Gift Guide for Women (a.k.a. "mothers" on the table of contents), one for Men (a.k.a. "Fathers") Kids (or "Tots to Teens"), and Everyone ("Everyone Else").

Design*Sponge has posted several gift guides this holiday season. There's an Eco-Friendly Gift Guide, a Handmade Guide, and guides divided by pricepoint: $25 and Under Gift Guide, $25.01-$50 Guide (I stubbornly refuse to call it "Gifts under $50" when some of those gifts are included in the $25 and under guide), and $50.01-$100 Gift Guide (ditto).

The Men's Health Gift Guide may present you with a dilemma (no pun intended; I pun accidentally. It's a gift.) If you seek guidance shopping for a significant other, you'll be asked to classify them as one of several stereotypes. A female, for instance, can be a: "Chic Diva", "Hot Momma", "Buff Babe", "Tomboy", "Green Goddess", or a "Cute Coed". Before looking at the recommendations for women, I asked myself, "Which am I?"

"Buff Babe" was out. That sounds like a woman who would go on the revived American Gladiators; I'm a woman who will enthusisastically watch the revived American Gladiators unless/until deciding it sucks.

I care about the environment, but I'm not as green as green LA girl— you can check out her Emerald City Green Gift Guide for much better "green" suggestions than an expensive watch or socks with "increased dexterity and breathing space".

I'm a little bit chic, slightly buff, somewhat green... there should be a hodgepodge category. But I remembered a Helpful Incident. At Thanksgiving dinner, my cousin's very beautiful, angelic-looking, mischievous two year-old daughter turned to me and said, "You're Mommy!" After the pause that ate Delaware, I asked, "I am?" She was sure: "Yes! Hi Mommy!!" "Hi..?" I responded, weakly.

So apparently I'm closest to qualifying as a "Hot Momma" (she didn't say I'm hot, but gimme a break, this is hard enough.) The recommendations for moms include a wine club subscription and a Bluetooth headset... hmm, no, that's way off. They really don't know what mothers want. Oooh, wait, they also suggest a pretty, eco-friendly yoga/pilates mat and cushion set for two (Beinjoy, $100). That's more like it.

The recommendations for a "Do-It-All-Dad" (pictured in a suit with a son on his lap) don't include a diaper bag or anything that relates to child-rearing. Apparently the name "Do-It-All-Dad" was chosen to show that irony is not dead, thanks very much. He put the kid on his lap for a minute before leaving for the office; isn't that enough to show he's co-parenting? Perhaps he just doesn't need corporate help to parent, unlike product-obsessed mom? Well, then he shouldn't need to get ahold of the modern, high-tech equivalent of a picture frame, a digital photo display unit ($199-$249, Philips). His favorite picture of the tot in a simple frame should suffice.

The "93 products we love" in the Men's Health TechGuide includes a wide variety of non-digital photo display unit stuff, including Home Hero fire extinguisher, which they call ""the Natalie Portman of portable firefighting: smart and hot." Yes, I know a fire extinguisher is supposed to put out fires, but they seem pretty pleased with themselves; let's not extinguish their enthusiasm. Ho ho ho. Anyway, the Home Hero will be exclusively at Home Depot when available; no sign of it at their website yet.

Don't let SELF's holiday gift guide fool you. Those Godiva truffles aren't "heart-healthy", even though they contain dark-chocolate. SELF has other, better suggestions.

Boing Boing's Shopping Zen links to a number of gift guides/round-ups of gift-guides (yes, this does get confusing).

Games Magazine gets a jump on the new year by including their 2008 Games of the Year and Other Awards with their holiday gift guide. The gift guide isn't online, but the awards are. For more game recommendations, see PC Magazine's Gift Guide: Hot Games list. Their gift guide includes recommendations for "the person who has everything", kids, etc., but does anyone really want to get their kid a $70 "sassy" interactive toy parrot? It will be cute when "Squawkers McCaw" repeats what you say the first time, but how about the tenth time? Is "randomly responding to his pre-programmed phrases in a nonsensical way" really all that "'humorous and 'playful'"? In short, I probably need one to test whether it's bearable, let alone any fun. Also, there should be a monkey version next year, so let's hope someone's on that.