Oxford American Southern Music Issue/CD #9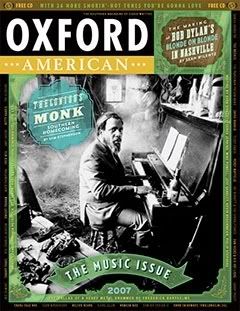 The annual music issue of
Oxford American
is always a treat and the 9th, on shelves now, isn't the exception that proves the rule.
Their free CD includes plenty of good blues, jazz, soul, R&B, country, folk, and pop. The magazine includes profiles (some with interviews) of all 26 artists represented on the CD and 3-page liner notes (including the Editor's thoughts on the goal of the compilation/any "mix tape"). Other articles include a feature on Writers Who Rocked and a piece on the making of
Blonde on Blonde
. A partly handwritten manuscript page allows you play graphologist; I'll start... he's... not afraid to change direction, even to cross-out mistakes... and start over. OK, your turn.
Oxford American Southern Music CD #9 Track Listing:
1. Eldridge Holmes - "If I Were A Carpenter"
2. The Hackensaw Boys - "Look Out Dog, Slow Down Train"
3. The Clovers - "One Mint Julep"
4. Sandy Posey - "I Take It Back"
Oh my. "Sometimes it's better to be loved than it is to love." If she really thought that, she wouldn't have been so persistent in her efforts to break up with her boyfriend in this disturbingly catchy tune, from 1966. Oxford American rightly points out how anachronous Posey's songs are and asks her about this in an interview.
She claims she "was so involved in music and what would be commercial and what wouldn't be" that she has "no clue what the public was saying about women in general back then." She talks about women today being "more knowledgeable" and then says things like "God created man to be the leader of the home." Geesh. Could she take
that
back?
5. Reverend Charlie Jackson - "Morning Train"
6. Van Dyke Parks - "G-Man Hoover" (Oh great, yet another kicky political calypso/pop song from the 70s. I'm sure we're all tired of that trend... ... ... This is a pretty keen song.)
7. The Zakary Thaks - "Bad Girl"
8. Karen Dalton - "Katie Cruel"
9. The Roches - "Hammond Song"
10.
Teddy Grace - "Hey Lawdy Papa"
(on
Teddy Grace: 1937-1940
)
Oxford: "'The man I love/Got a mouth full of gold' sounds like a boast out a rap tune, but it's from demure, preppy Teddy Grace. Although—I won't lie—she does break-dance during instrumental parts."
He is lying (well, kidding). The sadder-but-wiser mood of Grace's 1939 bluesy-jazz song wouldn't lend itself to headspins. She is still enamoured with this man, even though his heart may not be as golden as his mouth. However, Teddy Grace is no Sandy Posey: "I been a fool/Won't be for no one else/From now on, Daddy, I'm gonna be all for myself." Regardless of her feelings, not only is she through with Gold Mouth, she's out for number one now. According to her profile in the Oxford American, Grace married three times. This song was released the same year (1939) as
Gone With the Wind
; I like to think at least the sadder-but-wiser version of Grace never would have gone for Rhett Butler.
11.
Betty Davis - "Anti Love Song"
(on
Betty Davis
)

And just as hard as I'd fall for you, boy
Well, you know you'd fall for me harder
That's why I don't why I don't want to love you

Elizabeth Barrett Browning it's not, but it's love poetry nonetheless. There's a theory that all romantic relationships are about a power struggle, with both people afraid of losing control. Davis growls, huskily, about not wanting to be possessed by this man, knowing she'd possess him, and be possessed by him, if they got involved.
I know you could have me shaking
I know you could have me climbing walls
That's why I don't want to love you
'Cause I know how you are
12. Dwight Yoakam - "Yet To Succeed"
13.
Amy LaVere - "Killing Him"
(on
Anchors & Anvils
) Oxford: "What I keep hearing in this voice is Dolly Parton mixed with Ella Fitzgerald mixed with LaVere's own secret ingredient. What I keep hearing in those words is: The sound of tables turning. (A modern-day treasure, ladies and gents.)"
Amy La Vere
's voice is sweet and winsome. These qualities are key to the success of the song, both because the lyrics are a tad redundant and could grow tiresome if her voice was less endearing, and because the song is about a murder. A woman kills her loutish husband, then finds she misses him terribly: "Killing him didn't make the love go away".
I didn't immediately quite get the Parton-Fitzgerald comparison, but upon reflection I think the Dolly Parton comparison is a really good one. There's a charm in Amy LaVere's voice that's similar to Dolly Parton's... Both women have soft, sweet voices, with a slight quaver. LaVere currently has one concert scheduled for April 19 next year, in Calgary.
14. Don Redman - "That Blue Eyed Baby From Memphis"
15. Mayo Thompson - "The Lesson"
16. The International Submarine Band - "I Must Be Somebody Else You've Known"
17. The Parchman Prison Band - "Parchman Farm"
18. Joe Bennett & The Sparktones - "Bayou Rock"
19. Thelonious Monk - "Trinkle, Tinkle"
20. David Banner - "Cadillac On 22's"
21. Fred Neil - "Little Bit Of Rain"
22. Betty Harris - "Cry to Me" (Stellar R&B song)
23. Percy Mayfield - "Ha Ha In The Daytime"
24. Iris DeMent - "Sweet Is The Melody"
25. Daniel Johnston - "Don't Let the Sun Go Down on Your Grievances"
26. The Roches - "Hammond Song"