Very Good Debut From Pro-Good-Book Good Night, States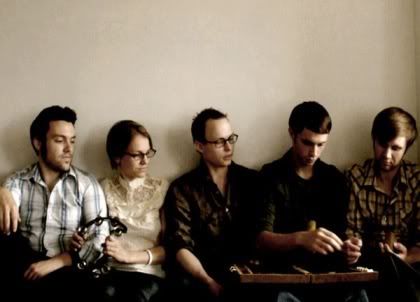 How can an alt-pop band create songs largely about
choices
without leaving listeners with a cheesy
Afterschool Special
feeling? There's no one "right" answer, equally, perfectly suitable for every band (but if faced with a multiple choice test and feeling unsure, it's probably best to guess "C".) For Good Night, States the solution lies in adding a very special blend of
Music-That-You-Can-Dance-To
synth, catchy drum beats, soaring guitars, and buzzy bass to warm ruminations on the suffering life can bring and love's ability to alleviate that pain.
It brings to mind words
Huey Lewis and the News
first gave unto the world in 1985:
"it might just save your life/That's the power of love."
There's a similar message in
Short Films On Self Control
, Good Night, States' first album after 5 years as Like Summer. With a casual listen, it contains exuberant, hook-laden, occasionally Baroque-pop-flavored songs buzzing with synth-fueled energy and brightness.
A closer listen reveals the album's religious context, and the source of the titular self-control:
"All my stories are the stories of who you are, changer the seasons and the healer of every heart."
("Change Of The Seasons") Then again, pay more attention to "The Power of Love", which hardly feels like a Christian pop song, and you realize it mentions "a little help from above".
Seek and ye shall find many religious themes and references on
Short Films
. If you don't seek them, you may not find them, or may find them subtle or unobtrusive. The catchy "I Am The Loser" suggests that selling your soul for rock 'n' roll isn't the best path, a message that could be embraced by people regardless of their religious affiliation or lack thereof.
At first listen, the infectious, sweet "Only Thing" seems destined for "our song" status for shiny, happy alt-pop couples holding hands. I listen again... I do believe he's singing about God. For me, it makes the song less romantic. That's me. Is Steve Gretz (vocalist/guitarist/main songwriter) wooing or praising when he sings,
"I'm pouring orange tea. You're presiding over me"
? In a world where tunes with blatantly unromantic lyrics—such as
R.E.M.
's
"The One I Love"
("A simple prop to occupy my time") are played, without irony, at weddings, the ability of wistful vocals and dreamy music to overpower lyrics should not be underestimated.
"Only Thing" (live, acoustic video)
:
Unless you tend toward either end of the spectrum on Christian content in music (you dig it or hate it), Choose Your Own Adventure on how much attention to pay to the religious references and themes. Either way, you'll be given infectious pop melodies, reminiscent of
Semisonic
(particularly on the über-catchy "Killer Of The One") and 80s synthpop.
The album's title comes from "The Family Dark" (
"Are you at home now/watching short films on self control?"
). It's the sort of majestic, melancholy-yet-handclapping-enhanced epic that makes you wonder when
Sufjan Stevens
will get around to doing an album on
your
state. (It also made me wonder what
Rich Aucoin
is up to these days.) I'm partial to these lines:
"I'd have never guessed you/would have the gravity around to pull out so much pain."
That's beautiful songwriting, in a sad-and-happy way. The pain seems to refer, at least partly to problems with alcohol, something that crops up elsewhere on
Short Films
.
As for the transformative-power-of-love-theme—again, choose-your-own-adventure on the identity of the "you" who possesses such a power.
"Dark" also includes irresistible stop-start keyboards by Megan Lindsey. Lindsey's playful synthwork adds incalculable fun and charm to the album. She contributes vocals and background vocals as well. The soaring guitars on "Dark" and throughout
Short Films
, by Joe Tanner, who also plays lap steel on the album. Dan Harding adds those catchy drums/percussion sounds and Trevor Baker is responsible for the brisk basswork.
Good Night, States has opted for some pro-listener policies when it comes to releasing their music. The group is releasing a pair of new Interweb singles every month, using "pay-what-you-want" pricing for most (and giving "The Family Dark" as a free download"). You can listen to any of their songs at the
band's website
, and download
MP3 demos
of several songs on the album at their blog.
The album itself is available
for sale
in MP3 format (for $7.50), as a CD ($10.00) or as "vinyl" (whatever that is, it's $15.00 and comes with an MP3 download version.)
Good Night, States - The Family Dark
(on
Short Films On Self Control
)