Canadian Music as Tasty as a Butter Tart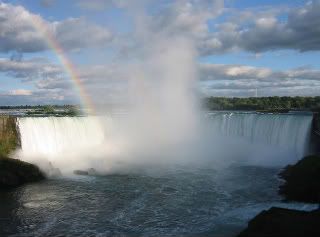 As promised, here's a belated Canada Day playlist, followed by some other Great White Northern sounds and such.
Canadian Music Playlist:
1.
Andrew Vincent & the Pirates - "One, Two, Three"
(on
I Love The Modern Way
) Rollicking, gleeful count-along pop/rock earworm. It's an original, but you wouldn't know it from some of the lyrics. "Hell/You know you kiss too swell" sounds suspiciously modern only because of that darn "Hell". (Their use of "Pops" also sounds old-fashioned to my American ears, but I hold out, with affection, the slim possibility that it's a common Canadian word. In Canada, trees contain delicious maple syrup! So really, it seems like a land of enchantment where anything's possible. Several
more MP3s
from Andrew Vincent & the Pirates are available.
(All MP3s on the playlist are posted below for play and/or download.)
2.
Eric Eggleston Band - "20/20"
(one of two singles from
This Modern Life
, the band's 2004 debut album). The other single, "Racking My Brain" is now a
free MP3
at the band's website. 20/20 is initially propelled by rapid-fire vocal delivery of sometimes irreverent lyrics
propelled by both hooky, immediately likeable, music and irreverant lyrics
Many shows
are scheduled, including the unofficial launch for second album
Food Water Compass
, which has been officially booked for July 7th at 10 PM at
Zaphod Beeblebrox
, a
Hitchhiker's Guide to the Galaxy-themed nightclub
in Ottawa. Nice try with the Hitchhiker's Guide to the Galaxy-themed nightclub, Canada, but I still bleed red, white, and blue.
3.
Hilotrons - "Emergency Street"
(on
Happymatic
) Lovable, hand-clapping, bleep-laden, announcer-enhanced, mega-catchy robo-electro. Possibly robo-electro-punk... it's just so cute I hesitate to add the "-punk". There are shades of Devo, "Monster Mash", and seemingly a cornucopia of science-fiction influences.
The band's
own website
is darn cute, but hasn't yet been outfitted with info about their latest album,
Happymatic
, which is on the Long List for the 2008
Polaris Music Prize
. The Short List—and, yes, they do call it that—will be announced July 7th. Listen via
streaming music faux-card
and decide for yourself whether the music is Long-List-worthy. Or visit the website of their label's site to snag the
Hilotrons MP3
on offer there (as well as the one posted below), and make a snap judgment! And of course, you can always buy the album (but then you knew that.)
4.
The Meligrove Band - "Before We Arrive"
(on
Let It Grow
) Bouncy, swingy alt-pop, a pretty and summery tune. See their website for a
couple more MP3s
5.
Projektor - "Foxfire"
(on
Red Wolf Glass
) Richly evocative rock with gorgeously layered instrumentation and passionately delivered pleas and gripes.
Another MP3
is available at the group's website.
6.
Readymade - "No Longer Ortona"
(on
On Point and Red
) Beautiful, sweetly sung shoegazery. Gently clings to the memory. Many more Readymade MP3s are available at
their website
, including a strong
My Bloody Valentine
cover.
7.
Women - "Group Transport Hall"
(on
Women
, out July 8th.) Oh, Chad VanGaalen, what were you and your bandmates thinking when you decided "Women" was a good band name? Maybe "Let's make it hard for people to find information about us online." Or perhaps "It's funny because we are, in fact, not women." The first may be true, the second, not so much.... by which I don't mean they really are women (as far as I know), but that it isn't funny, especially because
it's all been done
. I wish they gave more consideration to all the terrible, inevitable headlines to come: "Women Rock!", "They Are Women, Hear Them Roar"... all the painful writing... "Do you like Women? I sure do!" They anticipated, or should have anticipated a high level of such suckage, and therefore they deserve to be referred to as the Band Known As Women. Or the Band Called Women, either way.
Fortunately, their music is a lot better than their name... though I haven't heard the whole album yet so perhaps I shouldn't speak too soon! So far, so good anyway. "Group Transport Hall", for instance, is a well-constructed, sunrise-bright pop-fizzy song that sounds something like *ahem* American singer-songwriter
Matthew Sweet
. For another track from the Band Called Women and music from VanGaalen, visit
Flemish Eye Records
.
8.
The Heavy Blinkers - "The Night and I Are Still So Young"
(on
The Night and I Are Still So Young
) Dreamy song with a heavy late-60s-pop fringe (I picture a fringed, beaded lamp... in connection with the song, that is, not just in general.)
9.
Plumtree - "Was That All"
(on
This Day Won't Last At All
)
As a bonus, the title of this song (like the Heavy Blinkers one) provides a little in-joke as a complaint about the list running slightly shorter than usual. More importantly, it's a great, —
don't-write-sassy
—spirited break-up song:
"Go, there's no time to waste
We can't get to another place
With this
Me and you
Was it all that you thought it would be?
Did I set you free?
Was it all that you thought it would be?"
Plumtree's second album, released in 1998, was called
Predicts the Future
. This song is from their 2000 follow-up, titled
This Day Won't Last At All
. Not long after its release, the bandmates made like a tree and left... the Plumtree monniker in their past. Maybe they plan in-jokes years out, maybe it's a coincidence.
That awesome, if not unimpeachable source of information, Wikipedia, provides where-are-they-now
updates
on the band (and uses the punny headline "Split" in reference to their break-up.)
Canadian Music playlist
:
More music as tasty as a butter tart:
* An amazing
fan-made Rheostatics box set
is available from
Northern Wish
. The Rheos'
official site called it
"a comprehensive labour of love borne of musical pack-rattery of the highest order". A taste of Rheostatics brilliance, the
video
for "Bad Time to Be Poor":
* Free
Inbreds MP3s
, including album tracks, alternate versions, live songs, and remixes.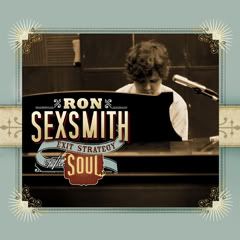 Ron Sexsmith
's gorgeous
Exit Strategy For the Soul
was released to Canadians on Canada Day. I'm not saying the release schedule for other countries was based on comparative proximity of geography and/or kinship, but I can't rule it out. The "street date", is July 8th in the U.S. and July 21st in the "the U.K. and Europe." An Australian release date is "coming soon".
*
Note: CDs may not actually be available on streets. If they are, be suspicious if the cover is smeary and/or the price seems unusually low. The U.K. is part of Europe. "Soon" is relative and sort of vague but better than never.*
* Listen to this wonderful album via one of those swell
streaming audio players
.
-
Bonus track options
: If you live in the U.S., the U.K., or another part of Europe, and pre-order the CD, Get to Know your various and sundry bonus track options:
- Pre-order from
Yep Roc Records
and get a DRM-free bonus MP3, "Too Good to Be True". The first 100 pre-orders also get autographed CDs.
- Pre-order from Sexsmith's
website store
and "immediately" get "Rain On The Roof" as a bonus track. (Is it DRM-free? Maybe!) Plus, "a chance to win one of 100 autographed copies of the CD booklet, signed by Ron himself."
- The U.K. and Europe can get "Seems to Me" as a bonus track if they pre-order through iTunes (Canada could too, but it's too late for them to pre-order now.)
- "Here Comes My Baby" (a Cat Stevens cover) is available to "all territories" "to use at whatever time they want as a non-exclusive bonus track."
Tour dates
for summer through fall are being added to his itinerary. Sexsmith also has a new
official YouTube channel
, which so far has a couple live in-studio performances recorded last month.
On the way
: "all the official uncut music videos Ron has made over the years as well as some special treats."
"This Is How I Know" (live studio performance)
: