Summer Lovin' and Wanderlust: Summer Songs Playlist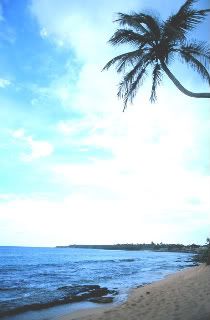 For fellow Southern Californians, the wretched
heatwave
that began before the summer solstice marked the unofficial beginning of the season. It doesn't take waves of blackouts or a sudden epidemic of vehicle fires to scream
"SUMMER!"
Summer also brings to mind an upswing in consumption of icy drinks, along with an increase in how much you treasure them, and how very grumpy, and possibly ill you might get if you don't have enough of them. Am I still on the heatwave? Sorry, so...very...hot.
Does our satisfaction with where we live drop as the temperature rises? In 2005, a group of researchers concluded that
the impact of hot weather depends on the season
.
The researchers found higher temperatures had no impact in fall or winter. They found a higher temperature or barometer improved moods in the spring, as long as people spent time outdoors while the weather was warm. In the spring, a young man's fancy turns to playing outside? In the summer, high temperatures worsened moods. The more you know...
Summer Lovin' and Wanderlust: Summer Songs
:
1. The Legends - "He Knows the Sun" (on Public Radio)
"He knows the sun
All is pretty, oh so pretty

This can't possibly be the place to stay
Everyone wishes they were somewhere else"
[
German accent
]Poor little Stockholm boy. So very sad. Yet
his angst is gorgeous.
You just want to roll around in hundreds of pretty, sharp shards of his pain. Also, his song has a good beat and you could dance to it.[/accent].
2. The Pastels - "Classic Line-Up" (on Mobile Safari)
The sunshine's almost an afterthought here. This bloke and his girlfriend have similar musical tastes; they love going to concerts together. This makes the bloke super content. If the guy the Legends were singing about moved next door to the Pastels, maybe he too could find super contentment with an awesome music-loving girlfriend.
3. Music Go Music - "Light of Love" (on Light of Love)
A soaring, joyous ode to love, this song seemed a natural follow-up to "Classic Line-Up." It's
heavily
influenced by ABBA and the title track from
Xanadu
, which Olivia Newton-John performed with Electric Light Orchestra. Silly and/or pointless ripoff/throwback or affectionate/cool nod to the past? You be the judge. (I think it's a great, fun throwback.)
4. Stephanie's Id - "Unmistakably Love" (on Grus-Americanus)
It would have been too jarring to have just one cheery, poppish love song, and besides, such songs make perfect driving music. This cheery love song is much more contemporary, and just barely alt-pop. It oozes with so much cheerful, swaying, toe-tapping charm, it would seem an ideal candidate for a crossover to mainstream success. If there's ever a time that those who are usually most resistant to mainstream pop find themselves checking it out, it's summer. Or possibly Christmastime. Okay, summer is probably one of the rare time
s
those who are usually immune to the alleged allure of mainstream music will give it a chance. I've tried listening to mainstream-hit-playin', Ryan-Seacrest-employin' local station KIIS recently, but had to quickly change the station every time. Apparently there's no time of year during which I enjoy listening to Lil' Wayne or Mariah Carey.
5. Sparrow - "This Is How It's Done" (on The Early Years: Sparrow)
A Canadian band singing cheerfully about the beach...and sounding kind of Swedish. Dudes,
stop freaking me out
! Several (
free Sparrow MP3s
are available at the band's website. More opportunity for them to confound us, but at least they do not sound anything like Miley Cyrus.
6. Young Fresh Fellows - "Let The Good Times Crawl" (on the band's forthcoming album)
Rawkin' tune sung by frontman Scott McCaughey, also of The Minus 5 and The Venus 3. He's been touring and recording with R.E.M. for many years as well. R.E.M. are very successful, but they also do not sound like Miley Cyrus.
7. Francis Dunnery - "American Life In The Summertime" (on Fearless)
A bubbly, saccharin-infused trifle. It draws a demeaning portrait of Los Angelenos, as a personifican of America, no less, to show why Dunnery won't move to the U.S. or sell out, no siree, not him! Well, if that's your attitude, then "Pfft!" back at ya, Dunnery! Catchy song though. But forget you, pal! Stay on yer island, then. We don't need you. And our American usage of "pay raise" sounds heaps better than the way you use "pay
rise
" in the song, so there. It's logical. What happened to her salary? It was increased, or "raised". It wasn't "rised". That's just silly-talk. (It's not in the song but I
am
down with using "lift" for elevator. That's simply adorable, even though elevators don't just lift (American elevator technology isn't that far ahead; the UK does have elevators that descend as well as ascend. If they didn't, Dunnery might be singing a different tune.)
8. Paul Brill - "Paris Is On" (on Harpooner)
Ooh, I've put this track on a few mix CDs for friends, but haven't posted it here before. A great driving song for reasons of both tempo and content (he's driving in in the desert, singing about what sees.) Once again, discontent with one's surroundings and a desire to escape are expressed here, only Brill's song escalates them to the point of angry and even violent thoughts. They contrast with the music's catchy, fun qualities and occasional twinkliness.
Those particularly angry lyrics ("
Feel the hate in my heart/wish them dead in the street
") are neither very fun nor terribly twinkly, but he is at least being ironic ("
I'm so tired of these freaks and their violent streaks
") and, arguably, consistent with studies showing
warmer weather may lead to aggressive behavior
. Brill also seems angsty throughout the song, seeing Paris as the only escape from a litany of miseries associated with the desert. "Pfft!" Off with ya, then, Paul. Hope for your sake they're embracing Americans these days.
9. The Helio Sequence - "Can't Say No"(on Keep Your Eyes Ahead)
A great song with a summery feeling from an American band with no apparent plans to go ex-pat on us. Just sayin'.
10. Radiogram - "Summer Song Summer" (on The Grass Is Always Bluer, a compilation)
Pre-planned alt-country summer hit.
11. Beulah - "What Will You Do When Your Suntan Fades" (on The Coast Is Never Clear)
"
And what will you do when your suntan is fading and the summer's gone?
" A typically thoughtful, lovely song from Beulah.
12. Joseph Arthur - "Echo Park" (on Our Shadows Will Remain)
"
Our love won't fade away
"
(Sadly, we can't say the same of Beulah...who broke up. Arthur remains steadfastly idealistic about the future in
his
lovely song.)
13. Jim Bryson - "Somewhere Else" (on North Side Benches)
With this striking song, on Canadian singer-songwriter Jim Bryson's second album, released in 2003, we return to themes surrounding
wanderlust
, as first addressed in the Legends song that opened this playlist. Fellow Canadian Kathleen Edwards, who covered the song on 2005's
Back to Me
, unlike Bryson, put
lyrics for the song
on her website. Unfortunately, while they might be accurate for her version, they're quite a bit off from the original. I couldn't find the original lyrics online, so I transcribed it (see below) and added its lyrics to
SongMeanings
. A demo version of this track and 11 other free MP3s are available at
Bryson's website
. He and Edwards are finishing up a
European tour
at the end of the month.
Jim Bryson - Somewhere Else
I used to look for you out in the daylight
I took highways and side streets and back lanes
Slept under open skies
And life can be cruel
But life can be sweet if I want it to be
The town that I once called home
I just can't hold on to
It's got strip malls and bus stops and people
I would never really talk to
And she says life could be sweet
But life is so cruel 'cause I let it be
And everybody out here
They wanna live somewhere else
I wish I could find a place
And stay there by myself
And bit by bit I swear I think I'm losing
All this city's confidence
And everybody out here
They wanna live somewhere else
And I wish I could find a place
And stay there by myself
And bit by bit
I swear I think I'm losing all this city's confidence
I swear I've lost
All this city's confidence
*bonus track* The Delays - The Sun Always Shines on TV (on Q Covered: Best Of 86/06)
It didn't quite seem to mesh with the other songs, so instead the Delays' cover of "The Sun Always Shines on TV" is here a bonus track (also as a direct download, just not on the playlist.) The Delays are in an uncharacteristically somber mode on this stripped-down cover. If, like me, you're fond of the guys in their cheerful, enormously engaging,
Everything's the Rush
/"Hooray" mode, you might not take to this tune right away (or, possibly, at all.) It isn't bouncy, happy, or sweet. There's no handclapping and the synth is restrained. They at least deserve credit for not trying to make an a-ha song sound like a Delays song (whether or not it should.) It needed time to grow on me, but now I find their version interesting and kinda groovy.
Hope you enjoy the
Summer Lovin' and Wanderlust: Summer Songs playlist
. The songs can be played and/or directly downloaded from the list below. Stay hydrated. Use sunblock.