Weakerthans Release Single, Tour, and... Regret Not Seeking Table-Free Venues?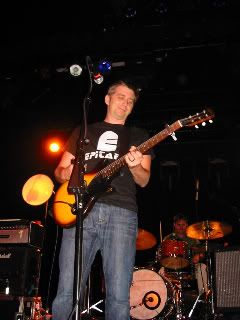 Time to get that lovable curling anthem stuck in your head again.
The Weakerthans
have just released a
video
for "Tournament of Hearts", from
Reunion Tour, my favorite album of 2007
. "Tournament" "finds a curler eloquently expressing their frustration with life by using the language of their sport":
"'Why can't I ever stop where I want to stay?'
I slide right through the day
Always throwing hack weight
Right off, no never never ever ever
Right off, no never never ever never"
The lyrics are melancholy, but the music is very cheerful; together it produces a cathartic effect. The feel-good impact is perhaps best felt when singing along from atop a sturdy table.
"Tournament of Hearts" will be released as a single in Europe, with an "exclusive" live version of "Relative Surplus Value", recorded last fall, as the B-side. The iTunes release date, "throughout Europe", is June 23rd. It will be released via other ways and means a week later. The band is currently
on a tour
which coincidently finds them in Europe at present.
The "Tournament of Hearts"
video
: