Starbucks Banana Chocolate Vivanno: Terrible, Briefly Free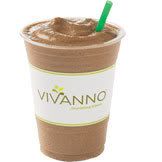 Like bananas? How about chocolate? Well, you won't find the taste of either in the new Starbucks Vivanno smoothie nonetheless called
Banana Chocolate
. If you enjoy chalky tastes, it might be up your alley. Otherwise, it's best avoided. "Vivanno" is Italian for "life", but this flavor at least deserves a quick death. (One other flavor, Orange Mango Banana, has been introduced.)
In the Banana Chocolate Vivanno, while there's no discernible banana flavor, there is a taste dimly reminiscent of a wan, distant relative of a cheap cocoa (that would be "bittersweet cocoa", per Starbucks, but this seems like calling moonshine Champagne.) It would be sad if a scientist, in a future without cacao trees, tried to approximate a chocolate or banana-chocolate smoothie and came up with anything close to this drink.
Each Banana Chocolate Vivanno contains a banana, but Starbucks manages to conceal its taste with their "own proprietary whey protein & fiber powder". Yum. That does explain the somewhat gritty/powdery texture, and why the drink is more like some kind of chalky protein powder mixture (is there whey chalk?) than anything else.
Each contains 21 grams of protein and 6 grams of fiber but that's only if you can manage to finish it. I came nowhere close.
If you
register a Starbucks card
, you'll get a coupon to get a free Vivanno today or tomorrow. The Orange Mango Banana
could
be better. Like the Banana Chocolate it contains a banana, 2% milk, ice... and that damned "proprietary whey protein & fiber powder". Maybe it makes all the difference that instead of cocoa, it adds "all natural Naked® Juice made exclusively for Starbucks" (don't even
try
to get your paws on it, kitten, lest mighty lion Starbucks claw you to bits. Or give you free Banana Chocolate Vivanno smoothies for life.)
7/30 Update:
today, from 4 to 7 PM, once again Starbucks is
giving away free Vivannos
-- only in certain California stores; Starbucks in other states will give away the drinks on various different days next month. Today stores in Los Angeles are also giving away the new
Sorbetto
drink.