World to Catch Ankle Warmer Fever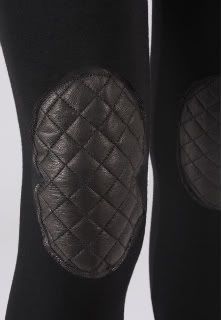 Via
Big Contrarian
, a particularly tasteful item from Lindsay Lohan's new clothing line:
"Mr President" leggings with leather knee patches
. Lest you think Lohan's a politics buff poking a little fun at the Clinton-Lewinsky scandal with this salacious item (albeit rather belatedly), think again! Her 6126 collection takes its name from Marilyn Monroe's birthday (June 1st 1926), and it's Monroe who was Lohan's "inspiration for the collection".
Certainly when you think of either Monroe or Lohan, you think: incredibly tacky, overpriced leggings! Unless $132 seems reasonable for leggings these days. Pre-order from
Shop Intuition
for "end of August delivery"... if you must.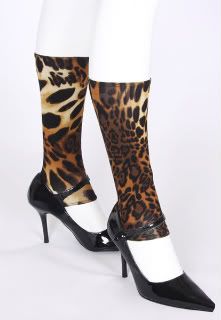 Items from Lohan's clothing line,
which includes cashmere leg warmers and footless tights
will also be available at
Fred Segal
and
Revolve Clothing
.
The early standout of 6126, though, is the ankle glove. Now here's an innovative design; it takes the eternally-fashionable look of the leg warmer, slouches it down to cover the ankle, and loses its warmth by changing the fabric to a blend of lycra and modal (a type of rayon).
As the world grows increasingly warmer, perhaps such fabric switches will enable us to comfortably keep wearing beloved classics such as leg warmers. Production in every color of the rainbow, and in unusual, fashion-forward patterns, may be inevitable, but has not yet been announced. So far only a leopard-patterned ankle glove ($42 for "late July delivery") can be pre-ordered, as if to test how popular such a clever, fresh design might be, even in a tired old pattern.
Switches - Drama Queen
(on
Lay Down the Law
, and the theme song of MTV's
Legally Blonde The Musical: The Search For Elle Woods
)