Keane Previews New Album With Free Song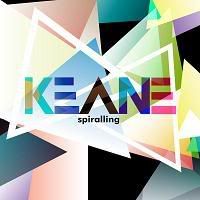 'Cause now I only see my dreams in everything I touch
Feel their cold hands on everything that I love
Cold like some, magnificant skyline
Out of my reach but always in my eyeline now

OH!!
Aw,
Keane
, everyone gets writer's block, but... "OH!!"? These lyrics are from the band's new single, "Spiralling", which finds Tom Chaplin doing his best Bryan Ferry (which is rather good!) through a kicky Bowie/Talking Heads confection on the tricky, elusive nature of "love" ("When we fall in love/we're just falling in love with ourselves".) "Spiralling" is our first taste of the band's third studio album,
Perfect Symmetry
, which is scheduled for an October 13th release.
A radio edit of "Spiralling" is available in the critically and commercially embraced MP3 format until 11 AM August 11th on Aw,
Keane's website
. They're emailing the link to download the song, but not requiring a sign-up to their newsletter. Warning: they probably mean 11 AM according to some sort of odd time zone used in the UK. UK readers, kindly refrain from reading the previous sentence.
September 29th marks the release of next single, "Lovers Are Losing" (
I sense a theme on this album and isn't "LOVE - OH! HOW IT ROCKS!"
)
Other songs on the album include the title track, "Better Than This" (which sounds very Roxy Music"), "Playing Along" (
hmm
), "Black Burning Heart" (
theme! theme!
They're also "burning" something, à la the Talking Heads' burning house), and "YHTMA" (I'm going to guess it stands for "You Hear That, Mr. Anderson?" from
The Matrix
until if/when a better explanation presents itself. "The sound of inevitability. The sound of your death." "And of a couple sequels that will generally be regarded as kinda disappointing" which could somehow tie into a "doomed" love/world theme. The album is their third...I didn't see the third
Matrix
...this theory is spiralling.)
"Spiralling" audio-only 'video':