Uncut: The REM Collection: Disc 3 (Peter Buck)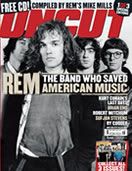 This month, you can take your pick of CDs with your copy of
Uncut
magazine. Peter Buck (who digs Sufjan Stevens, Stephen Malkmus, and the Go Betweens), Mike Mills (a Big Star/Replacements/Miracle Legion kinda guy), and Michael Stipe (a fan of Now It's Overhead, Magnapop, and Joseph Arthur) each compiled a CD for the magazine. Each CD ends with the same song. Coincidence? I think not! That song is a version of REM's own "Boy in the Well," recorded at a 2004 London concert.
I didn't realize until I got the mag home that there
was
more than one version of the CD. Oops. I thought the first track listing in the magazine was the only one, so I thought I was getting Mike Mills' songs and I wound up with Peter Bucks' tunes instead. Hey, who hasn't been
there
? *crickets* Ah, well, no harm done. You can have a listen to 30-second snippets from the songs of each compilation at the
Uncut website
.

The REM Collection: Disc 3: Peter Buck Presents... Track Listing:
1. Ry Cooder - Poor Man's Shangri-La
2.
MP3:
The Turn-Ons - New Jesus
3. The Pernice Brothers - There Goes The Sun
4. Espers - Meadow
5.
MP3:
John Doe - The Losing Kind
6. Orange Juice - Poor Old Soul Part I
7. Smog - Rock Bottom Riser
8. Martha Wainwright - Factory (see previous post)
9.
MP3:
The Go Betweens - Darlinghurst Nights
10. Richard Thompson - My Soul, My Soul
11.
MP3:
Stephen Malkmus - Pencil Rot
12. Belle & Sebastian - Lazy Line Painter Jane
13.
MP3:
Jeff Klein - Put You to Sleep
14.
MP3:
Sufjan Stevens - Jacksonville
15. REM - Boy in the Well (live)