Word of Mouth July CD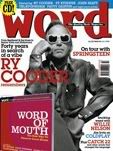 The July issue of
Word of Mouth
includes a rather eclectic CD -- a lovely slice of retro-pop from Saint Etienne, a plaintive, lovely tune sung in English by Keren Ann (who usually sings in French), a few tunes that
are
in French, a beautiful love song that doesn't like Coldplay (hooray for Ian McNabb), a bit of breezy electronica courtesy of Mr. Scruff, folk, funk, and musical comedy poking Coldplay in the ego.
1.
mp3:
Guy Chambers & Sophie Hunter - Les Heures Où Je M'Eclipse
2. Ry Cooder - Chinito Chinito
3. Madeleine Peyroux - Dance Me To The End of Love
4.
mp3:
Saint Etienne - Milk Bottle Symphony
5.
mp3:
Ian McNabb - There Oughta Be A Law
6.
mp3:
John Hiatt - Thunderbird
7.
mp3:
Keren Ann - Chelsea Burns
8. The Meters - Stretch Your Rubber Band
9.
mp3:
Mr. Scruff - Night Time
10. Telepopmusik - Love's Almighty
11.
mp3:
Patty Griffin - Useless Desires
12. Roisin Murphy - Dear Diary
13. Mitch Benn and the Distractions - Everything Sounds Like Coldplay Now (see previous post)