Tragically Hip to Release CD/DVD Set... At Least in Canada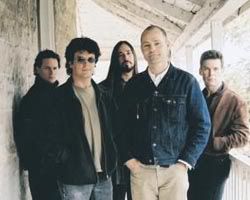 The Tragically Hip
plans to release a
limited-edition 2-CD/2-DVD boxed set called "Hipeponymous" on Nov. 1
. That's the release date in Canada, at least. There is no release date for the U.S., and that might be the way it stays.
Billboard
reports that the CDs will be dubbed "Yer Favourites" and contain 37 songs chosen by an Internet vote, along with two new songs, presumably destined to be new favourites.
One DVD, "That Night in Toronto," will feature a November 2004 concert at the Air Canada Centre. The other DVD will contain all of the Hip's videos and 11 new "video pieces." But wait, there's more! Not a handy device that can scramble an egg while its still inside its shell, though. However, a 48-page book will be included. No word on whether it has a lot of pictures or groovy charts and graphs.
The Yer Favourites Track Listing:
Disc one:
No Threat
Grace, Too
mp3:
My Music at Work
(from Music at Work)
38 Years Old
Gift Shop
Ahead by a Century
mp3:
Vaccination Scar
(from In Between Evolution)
Three Pistols
So Hard Done By
Fiddler's Green
Looking for a Place To Happen
Cordelia
mp3:
It's A Good Life If You Don't Weaken
(from In Violet Light)
Blow at High Dough
Wheat Kings
50 Mission Cap
New Orleans Is Sinking
Escape Is at Hand for the Travelin' Man
Disc two:
Fully Completely
mp3:
Twist My Arm
(from Road Apples)
Courage
Lake Fever
Poets
Fireworks
Boots or Hearts
Bobcaygeon
Nautical Disaster
Highway Girl
Gus: The Polar Bear From Central Park
Scared
Something On
At the Hundredth Meridian
Long Time Running
The Darkest One
Locked in the Trunk of a Car
Little Bones
The New Maybe