Michael Penn at Amoeba Music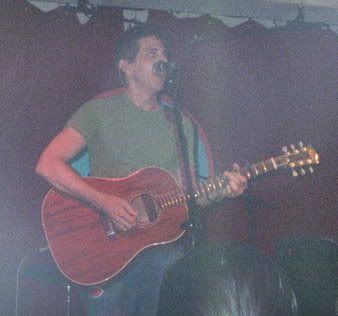 Michael Penn played an entertaining set at
Amoeba
in Hollywood Wednesday night in support of his latest album, Mr. Hollywood Jr., 1947. The album is set in post-war Hollywood in 1947. Penn explained he's long felt "obsessed with 1947." The year was a significant turning point for the U.S. for a number of reasons, and significant for Penn's family. His father returned from the war, and was blacklisted. Having this kind of concept album presents certain marketing obstacles, which Penn acknowledged. He said people hear it "and it's not like 1940s swing music, so they go '
What
?'"
It's not 1940s swing music, so what is it? Insightful alt rock/pop-rock. Mr. Hollywood includes a lot of mid-tempo songs, which Penn excels at, and quite a few catchy songs with upbeat arrangements that belie their lyrics, which aren't quite as cheerful. The concept behind the album shouldn't scare anyone off; the feelings and ideas in the songs are pretty universal.
At Amoeba, Penn opened his set with "Don't Let Me Go," from his last album, 2000's
MP4 (Days Since A Lost Time Accident)
. It was warmly received, with good reason. He sounded great, in no small part due to his band: Danny Frankel on drums, Patrick Warren on keyboards, and Buddy Judge (guitarist/backup vocals/sidekick).
That five-year gap between albums was addressed. It clearly was not by choice, not Penn's anyway. He wanted to release an album; his label had another opinion. "Major takes on a whole new meaning," he told us. He's no longer on a major label. He said to make money, "I did some soundtracks and producing and stuff" during that time. Particularly given his reputation (and declarations) to the contrary, I thought Penn was pretty good with the banter thing. If he doesn't enjoy it, that's understandable, but maybe it's harder on him than on the crowd. Or maybe it gets more difficult as the need for repetition grows later in a tour. I thought he had a lot of interesting things to say, about several of the songs, the album, and himself. He seemed pretty candid, and not bitter.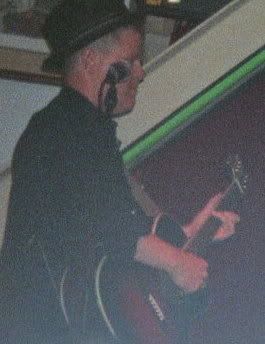 Buddy Judge
Perhaps one of guitarist/vocalist/sidekick Buddy Judge's roles is to make audience interaction, and shows in general, a bit easier for Penn. When Penn lost track of his songs, Judge kidded him, "You said you had a list." As Penn looked around the stage for his setlist, Judge continued, providing a cute distraction for the audience, "Professionals have lists. They tape them by their microphone. People take them." By then, Penn had found his list, and was ready to continue.
I think crowds generally love it when little things like this go wrong. Along those lines, Penn also had a small number of false starts. Is there anyone who doesn't love a false start? (other than the artist?) A false start shows an artist is human. They're also unexpected, unique little moments, and there's something cool about that. I always like them, anyway. These tiny glitches aside, Penn & co. sounded perfect. He played some of my favourite songs from 'Mr. Hollywood' and some great "older" (though not
that
much older) tunes.
New, Improved-Even-More-Hopefully-Accurate Set List:
(updated)
Don't Let Me Go
A Bad Sign
Me Around
High Time
Electronic (?)
On Automatic
Walter Reed
Michael Penn - Walter Reed
(from Mr. Hollywood Jr., 1947)
About the song...
Penn's first remarks at Amoeba (a music store) were addressed not to his audience but to those shopping. He apologized for disturbing them and said he really was sorry "because you're buying records and that's kind of a holy thing." At the end of the set, he thanked us for buying music. It was gracious of him to do so, but a bit sad that he felt the need. I blame his record company for that five-year gap between albums, not people who download music. However, it seems like he might have an issue with his music being downloaded, and I'll respect that. So the only track I'm posting is one he's already made available. His whole album can be listened to online; I've posted the link below, along with some other cool MP links.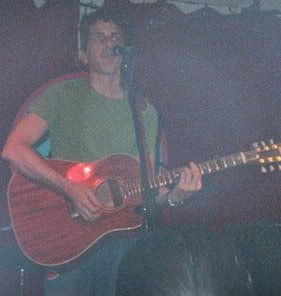 A weird glowing red light suddenly emerged from his guitar all by itself. Suddenly, I had this urge to not post MP music, other than Walter Reed...
Linkage:
Michael Penn's official site
Michael Penn's tour dates
NPR World Cafe interview and performance
His set: "A Bad Sign," "Long Way Down," "Denton Road," and "Walter Reed."
Streaming audio of Mr. Hollywood Jr., 1947
MichaelPennList
- very large, active Yahoo Group
Bunker Hill
- an unofficial, excellent Michael Penn website (I hate to put it last on the list, but think of it as one of those really cool actors who is mentioned last in the opening credits of a show)