Saturday Night: Saturday Songs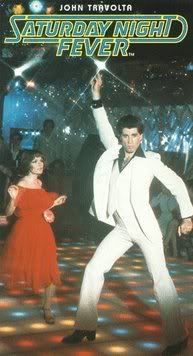 By way of compromise... A Saturday Night Fever picture, but not the song
Saturday is named after the Roman God Saturn
, a god of
fertility and agriculture
. Feel free to honour him in some appropriate way on Saturdays if you like... or not. He did have his own festival,
Saturnalia
, for a while, so he wasn't neglected.
Saturday's child
"works for its living."
Wikipedia apparently misquotes the rhyme and has Saturday's children
working "hard" for a living
, so you may want to keep that in mind and adjust your workload accordingly, Saturday's kids.
To check what day you were born you can virtually hop over
here
and to find out your alleged destiny based on this info, head over
here
if you're so inclined.
Saturday music:
mp3:
Eels - Saturday Morning
(from Shootenanny! E in cute, kid mode.)
mp3:
Nick Drake - Saturday Sun
(from Five Leaves Left. A different sort of song about Saturday morning. Saturday night seems to inspire more songs than Saturday morning... Not terribly shocking)
mp3:
Kaiser Chiefs - Saturday Night
(from Employment. According to bookmakers, the Kaisers are the favourites to win the Mercury, and their odds keep improving)
mp3:
The Thrills - Saturday Night
(from Let's Bottle Bohemia. I saw The Thrills play at Amoeba shortly after this album was released. Pretty good set, though it was at times impersonal, and possibly just a bit cocky. One song was introduced with something like, "This was a top 20 hit in the US." The way it was said felt like it meant we should be ever so grateful to hear it. They could have been tired from touring, but there is an admission of excessive vanity in this song...)
mp3:
Big Wooden Radio - Let's Kill Saturday Night
(from Visitng Normal Town. An especially worthy cover, I think)
mp3:
Robbie Fulks - Let's Kill Saturday Night
(from Let's Kill Saturday Night. This, like Wellington's Wednesdays, is one of those songs I had to post. I have mixed feelings about Fulks, and I could never harm Saturday night, but this is such an appealing song)
mp3:
The Cure - 10:15 Saturday Night
(from Boys Don't Cry. I wanted to say obligatory 80s track, but this was released in 1979. Wow, this song is old)
mp3:
Sam Cooke - Another Saturday Night
(from Man & His Music. Okay, I guess if The Cure song is old, this must be ancient? You might well recognize this one when you hear it, even if you don't already recognize the name of the song or singer)
mp3:
David Bowie - Drive-In Saturday
(from Aladdin Sane. A lot of Bowie this week, but they're all good...)
mp3:
The Undertones - When Saturday Comes
(from The Very Best of the Undertones. Later inspired a soccer magazine and movie, though Joe Elliot performed the song on the soundtrack).