Harp Magazine & New Music Sampler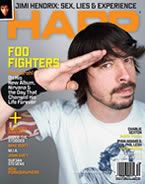 Dave Grohl salutes the reader from the cover of the latest
Harp Magazine
. Thanks, man. Coincidentally, I bought some
Mentos
(the Freshmaker!) today and they were all I could have ever hoped for, truly. (
updated to explain that this is a coincidence because of the Foo Fighters video for "Big Me" which spoofed Mentos commercials
) It was like there was a whole world of freshness in my mouth. They looked like Easter candy, which was... a bonus, I suppose. It really was a coincidence; I bought the Mentos before I bought the Harp. Also, I was looking for "regular" mints or gum, but there weren't any at that checkout line, possibly to encourage the purchase of Mentos (the Freshmaker!). Sure, as long as I'm discussing my day, I
could
write about the massive power outage that began as I drove along with my well-chosen purchases beside me, but aren't the Mentos more interesting?
As for the Harp, well it seemed a bit more interesting before I discovered that Mentos has an
online store
!

Oh, fine... those subjected to the hideous glaring light of a music journalist's interrogation and enduring it with good grace include: that Grohl fellow, John Hiatt, the New Pornographers' A.C. Newman, Sons and Daughters, Sufjan Stevens, and Orenda Fink (of Azure Ray, and currently promoting her solo debut
Invisible Ones
).
Also, Juliana Hatfield answered several questions about her car (a 1998 Volkswagen Jetta) for a cute feature. She revealed what she likes best and least about her car, the most memorable thing that's happened in the back seat (it was not sexy), and whether it's inspired a song (no).
Here's one Q/A from the piece:
Does your car have a name?

No. If it did have a name, it would probably be something like Gerta or Helga -- something no-nonsense and German. But I don't subscribe to the point of view that says that your car must express your personality. If I were trying to express my personality with this car, that would mean that I am boring and out-of-style. But, also, solid and resilient. Oh my God, I think I am unconsciously expressing my personality with my car.
Harp deserves props for running Julie Simmons' article "Survey Says: How the People Choose Which Songs Become Hits". The article explores how record labels sometimes use consumer research (such as focus groups) to decide which artists and songs to promote, and how much to promote them. The use of people who are considered "tastemakers" is also discussed. Interesting topic, to say the least, and it raises a lot of questions.
Cool new music sampler was included with this issue, apparently/possibly courtesy of Vanguard Records and Sugar Hill Records along with Harp. Plenty of sonic goodness.
Harp New Music Sampler:
1.
mp3:
Nickel Creek - Can't Complain
(from
Why Should the Fire Die?
)
2.
mp3:
Blues Traveler - Amber Awaits
(from
Bastardos!
)
3.
mp3:
Carbon Leaf - Let Your Troubles Roll By
(from
Indian Summer
-- this is so catchy)
4. The Duhks - Mists of Down Below (from
The Duhks
)
5.
mp3:
Deana Carter - Atlanta & Bimingham
(from
The Story of My Life
)
6. Reckless Kelly - Wicked Twisted Road (from
Wicked Twisted Road
)
7. Shurman - Drownin' (from
Jubilee
)
8. Grey DeLisle - Joanna (from
Iron Flowers
)
9.
mp3:
M Ward - Bean Vine Blues #2
(from
I Am the Resurrection: A Tribute to John Fahey
)
10.
mp3:
Camper Van Beethoven - That Gum You Like Is Back In Style
(from
New Roman Times
)
11. Sonny Landreth - Gone Pecan (from
Grant Street
)
12. Del McCoury Band - If Here Is Where You Are (from
The Company We Keep
)
13. Gibson Brothers - The Barn Song (from
Album Name TBD
(that would be an interesting album name... has it been done...? I have some memory that a group named an album something cheeky possibly along those lines and annoyed/inconvenienced retailers)
14.
mp3:
Greg Trooper - Close to the Tracks
(from
Make It Through This World
)
15. Victor Wooten - Bass Tribute (from
Soul Circus
)