Ring of Fire: the Johnny Cash Musical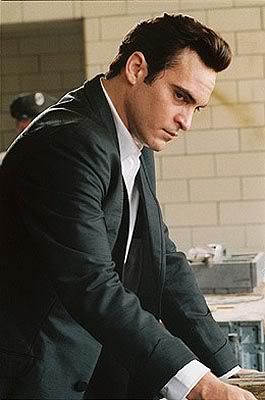 Apparently
Johnny Cash
mania is afoot. Or not so much a foot as a sort of lively, effervescent presence in the air. (Because when you think "Johnny Cash", you think "effervescent") There's
Walk the Line
, the Johnny Cash biopic, opening November 18 (in the U.S. at least), with Joaquin Phoenix in the lead role. I saw the trailer at the movie's
website
and it looks like it might be good, although I had no idea Johnny was once with Reese Witherspoon, before June I guess. Movies teach us so much and ask so little. Well... they do ask us for about $10. They also often require us, as a captive audience, to sit through something like a half-hour of commercials and a bunch of trailers (which aren't so bad, and many are highly mockable) before allowing us to watch the movie we paid to see. But
other than that
, they ask so little!
Anyhoo, Johnny Cash's music
will also be coming to broadway, in the form of a musical next February when "Ring of Fire: The Johnny Cash Musical Show" opens
. The show does not have a storyline; rather it's described by producers as like a "theatrical concert of his songs", a whopping 38 of them in fact. Among the songs included in the "jukebox musical" are "Ring of Fire" are "Five Feet High and Rising", "I Walk the Line", "Ring of Fire", "Daddy Sang Bass", "I've Been Everywhere", "The Man in Black", and "Hurt". The producers decided to have
several actors handle the singing duties, and not have just one person playing Cash
.
The show is now playing, through Oct. 9, in Buffalo, NY at the Studio Arena Theatre. The show's program notes indicate that
shortly before his death, Cash gave his approval to the musical
. The
reviews have been good
, with Variety saying the show leaves an "overwhelmingly positive impression" and the Buffalo News calling "Ring" "a fabulous piece of entertainment, a show that gracefully, beguilingly, transcends its own limits at every turn." Variety did say the ending could be "much stronger" and there's a "stretch" midway through the first act where the focus grew fuzzy. They still were very fond of it.
(I love Johnny Cash, by the way).
MP3:
Johnny Cash - Five Feet High And Rising
(from
Man in Black: Very Best of Johnny Cash
, among lots of other albums)
mp3:
Johnny Cash - I Walk The Line
(from
The Essential Johnny Cash
and oodles of other albums)
mp3:
Johnny Cash - Ring of Fire
(from
16 Biggest Hits
and lots of other albums)
mp3:
Johnny Cash - Hurt
(Nine Inch Nails cover, from the
Unearthed
box set, etc.)
mp3:
Johnny Cash (with Bob Dylan) - Girl From the North Country
(from the U.K. release
Man in Black: Very Best of Johnny Cash
, for one)
mp3:
U2 (starring Johnny Cash) - The Wanderer
(from
The Mystery of Life
, etc.)