Wonkavision Magazine Issue 29 and CD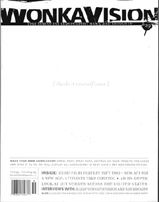 Purchased an issue of
Wonkavision Magazine
the other day. Their slogan is "Your source for independent music and thoughts". ("That's right. That means when it's time for you to have some independent thoughts, you come to
us
for them, pal. Hey, saves you the trouble and they're only $2.95! Or $5.00 if purchased online! Plus you get music! Independent music! No griping.")
In contrast to that slogan (and the hideous oppressive mind-control philosophy I playfully imagined might inspire it), this issue is "the do it yourself issue", right down to the cover. It's mostly blank, and the mag invites... hmm... actually the mag
orders
its readers to "Make your own damn cover! Draw, paint, spray paint, destroy, do your thing to this cover and send it to us. We will display all submissions in next issue's art and design special."
Within the covers the magazine checks out DIY venues in the US. There's also an article about about "artivists" a.k.a. political independent filmmakers who make films that encourage their audience to "look beneath the surface, to question, to research, to think, and eventually to take a stand against the injustices we encounter." There's plenty more, such as poetry, reviews (of music, DVDs, books, and zines) and an interview with Blake Schwarzenbach, formerly of Jets to Brazil (he says they broke up two-and-a-half years ago, although it was never formally announced). He is now working on his Master's in English Literature, while teaching a couple of courses.
The mag also included a CD sampler from "The Platform Group". The track listing:
1.
mp3:
New London Fire - Different
(from
Sing The Body Holographic
, out Feb. 7 2006, at least in the U.S. I quite like this song, enough that I sought out the band's
website
(although then I decided to be consistent and snag similar info for all the bands I'm posting mp3s for here). On New London Fire's website, I found the aforementioned album release info, along with the news that the band plans to release a digital EP (download-only) "very, very soon" (that was posted on Sept. 19th). New London Fire will be playing some shows in New York in New Jersey in October; tour info is available at that very same
website
)
2. My Epiphany - Final Battle
3. Secret Lives of the Freemasons - It Only Took a Whisper
4. The Valley Arena - Into the Lion's Mouth
5.
mp3:
Baumer - Take What's Mine
(from
Come On Feel It
.
Baumer
has several concert dates posted on their website, including October shows in Maine, Connecticut, Pennsylvania, Virginia, and North Carolina)
6. The Blackout Pact - We Drink So You Don't Have To
7. Jettie - Nyanian
8.
mp3:
The Static Age - Vertigo
(from
Neon Nights Electric Lives
.
The Static Age
toured this Summer and played a couple CMJ New Music Marathon dates and now they think they never have to tour again! I possibly made the part after "and" up. This much is certain -- no future tour info is listed on their website at the moment, not on the "shows" page, anyway. I suppose it could be tucked away in some other location, but it probably isn't)
9. Mommy and Daddy - Pretty Loser
10. Post Office Gals - Right Click My Heart, Save As Broken (Cute title, can't take the song. Too screamey for me)
11.
mp3:
Tourmaline - Blank
(from
Strange Distress Calls
.
Tourmaline
has a show scheduled for October 1 in Montclair, N.J. with The Vacancy and The Semester)