Mojo Magazine Oct. CD: Made in Britain: The Sound of a New England 1977-1983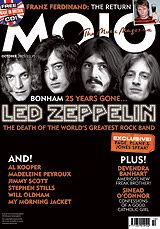 October's issue of
Mojo Magazine
includes a CD called "Made in Britain" which promises "The Sound of a New England 1977-1983". Appropriately enough, given that description,
Billy Bragg
's classic "A New England" is featured on the CD, along with cuts by The Jam, Soft Cell, The Damned, and oodles of other bands. According to the liner notes, the "Made in Britain" CD was "compiled to coincide loosely with
Janette Beckman's remarkable book of the same name". Only, the book pictured on that very page is actually called
Made in the UK: The Music of Attitude, 1977-1983
. The UK, not Britain. They're not the same; silly Mojo. Maybe sometime after writing the liner notes, the Mojo folks decided to retitle the CD and forgot to change the notes to reflect the change. Ah well, writers and proofreaders are only human. The book will be released on Oct. 6 in the U.K. and it's
already available in the U.S.
, which is kind of amusing, unless you live in the U.K. and want the book now. It contains 132 pages of photos of punks, mods, rockers, and the other assorted music-loving whippersnappers, Johnny Haircuts, Susie Shortskirts, and ne'er do wells that populated the U.K. during that era.
Track Listing for Made in Britain: The Sound of a New England 1977-1983:
1.
mp3:
The Jam - The Modern World
2.
mp3:
Billy Bragg - A New England
(I love this song. Mojo left the "A" off the title, but it does belong there;
Billy Bragg says so
... lyrics at that link too, FYI)
3. The Ruts - S.U.S.
4. The Selecter - Too Much Pressure
5. The Pop Rivets - Lambrettavespascoota
6. The Chords - Maybe Tomorrow
7. The Redskins - Kick Over the Statues!
8. Steel Pulse - Ku Klux Klan
9.
mp3:
Medium Medium - Hungry, So Angry
10.
mp3:
Soft Cell - Bedsitter
11. The Damned - Problem Child
12.
mp3:
The Members - Goodbye to the Job
13. Sham 69 - George Davis is Innocent (live)
14. The Meteors - Out of Time
15. Alien Sex Fiend - I'm Doing Time In A Maximum Security Twilight Home