Tastemakers Predict The Next Big Thing: Arctic Monkeys. And Smaller Big Things.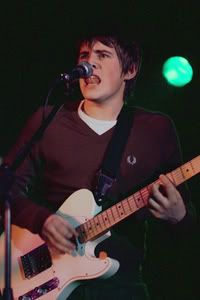 A reporter at The Guardian talked to some music "tastemakers" for a let's-predict-the-next-big-thing
article
in today's paper. Music tastemakers are basically people who influence the artists and songs the public (in this case the U.K. public) is exposed to, and ultimately is more likely to embrace with their hearts and dolla- make that pounds. But success in Great Britain doesn't happen on an island -- well, okay, it does. You know what I mean! Commercial and/or critical success there often has an impact elsewhere. Even though Damon Albarn had to become a cartoon to make it big in the States that is only the case for about 30% of U.K. artists.
Ten times reporter Alexis Petridis asked "Who's going to be big next year?" Six of the answers mentioned Sheffield, England's indie sensation
Arctic Monkeys
. If you weren't bowled over by the track I posted by them
a few days ago
, well then by gum you'd better like the tracks I'm posting today. Or learn to like them. Arctic Monkeys are the future. The future of rock. Indie rock. Alt rock. British rock. The soundtrack of your life. You will do everything to them, from this moment forward. You will love the band and think of them as family. Their names are, uh, Pinky, Bluey, Richie, and Junior. Wait, I'm thinking of
Pimp My Ride U.K.
. Arctic Monkeys are: singer/guitarist Alex Turner, bassist Andy Nicholson, guitarist James Cook, and drummer Matt Helders. Great lads' names, then... (though I confess to some measure of disappointment upon learning that some of those Pimp My Ride names are in fact "nicknames"!) Anyway, Arctic Monkeys has been together since 2002 when they were all about 15 and 16 which just goes to show that not turning that damn music down can be a valid
and
profitable lifestyle choice.
To wit, they're already
topping the NME chart
and
moving to a bigger venue for an upcoming London concert due to heavy demand for tickets -- oh, and the whole tour has already sold out
. Predicting their success seems a bit obvious at this point. I guess the question is how big they will get, and how long will their success last. Many in this article think the guys will be
very
successful.
Conor McNicholas, the Editor of NME assures us that "The Arctic Monkey are going to be the biggest band this country's seen since Oasis." Aside from getting the name of the band wrong (possibly the paper's typo, not McNicholas'), I find both McNicholas' endorsement and his level of enthusiasm entirely spot-on and trustworthy. He speaks for NME, after all. They bring us headlines like
"Jack White to get coked up!"
(for an article about Jack White being asked to write a jingle for Coca-Cola). No way is
this
dude going to exaggerate! If he says Arctic Monkeys are going to be the biggest band England's seen since Oasis, then you'd better bet your bottom dollar they will be! (I mean this figuratively; you don't really "have" to bet anything). Notice he didn't say they'd be the biggest band his country's
heard
since Oasis. Cheeky monkey, leaving an out! McNicholas also thinks We Are Scientists will "make a splash." No indication as to the expected size of the splash is mentioned.
Helen Marquis, a music buyer from Amazon.co.uk interviewed for the article mentioned Arctic Monkeys right off the bat. She said, "We have a report each week called unresolved search results, which tells you what things people have typed in on site and not been able to find anything by and they were massive on it." Hey, they notice all those "unsuccessful" searches we do at Amazon and Amazon.co.uk! Other frequent "unresolved" search results Marquis noted are for Test Icicles, Lady Sovereign, Morning Runner, and Be Your Own Pet. HMV's Steve Owen and Mel Armstrong mention you-know-who, Louis XIV, White Rose Movement, and Kubb, among others... (For anyone who might not know, HMV is a major music retailer in the UK)
Alison Howe, a co-producer of the TV show "Later with Jools Holland", raves about Arctic Monkeys and says she "likes" the Rakes and the Cribs. She thinks "the Joseph Arthur record is good." The head of music for
Radio 2
, Colin Martin seconds the nod for Joseph Arthur: "I really think he's going to do it." Suzi Aplin, who produces the program "Friday Night with Jonathan Ross" thinks Louis XIV will be big. She mentions their "filthy lyrics" and says they're "really entertaining." She also mentions Kubb, but doesn't say a word about them. Judging from the streaming songs at their
website
, they might well lack filthy lyrics and maybe they aren't "really entertaining" either. Or maybe the paper thought whatever she said was boring... or it had to be cut for space.
Sarita Jagpal, the acting head of music policy for
Radio 1
, after the semi-mandatory Arctic Monkeys rave, says, "I'd love to think Pendulum would do something, but I doubt it. It would be interesting to see if Morning Runner do anything, and Bedouin Soundclash." These are among the most intriguing groups mentioned, I think. Not so much Morning Runner, because I'd already heard one of their songs, and seen them mentioned in Q, but the other two. I'd like to hear more from both of them before I go mouthing off about their commercial potential, though I'm really tempted to do so now... I do like what I've heard so far from both Pendulum and Bedouin Soundclash, though. I also liked that Jagpal named some bands I hadn't heard of before, which is especially in the spirit of this article, I think (more so than naming bands who obviously are already doing really well; I feel like the tip about Arctic Monkeys may be more future-oriented for those outside of the U.K. than for most readers of the Guardian).
Radio and TV presenter Michael Parkinson says the two best albums he's heard in a long time are by Lizz Wright and Madeleine Peyroux. He says Wright has "some voice, she could be a huge star."
I want to mention that this
article
has a lot of content I'm leaving out, for multiple reasons -- for one thing, I obviously don't want to pillage the whole thing. Several other artists are mentioned in the piece, but not here. I didn't talk about every tastemaker, or mention some rappers and metal bands, but even if you're not partial to those genres I might have not mentioned some artist(s) you'd like to know about -- I do recommend checking out the article. There's also some cool discussion about each tastemaker's job -- the influence they wield and some of the artists they've helped "break" (eek, nice expression, that!).
Songs from artists who might be "the next big thing":
MP3:
Arctic Monkeys - Still Take You Home
MP3:
Arctic Monkeys - A Certain Romance
mp3:
Joseph Arthur - Marmalade Eyes
(from
Junkyard Hearts II
)
mp3:
Joseph Arthur - In the Middle of the Night
(from
Junkyard Hearts III
)
mp3:
Louis XIV - Louis XIV
(from
The Best Secrets Are Kept
, available both in the U.S. and in the U.K., and on the
Illegal Tender
EP, available in the U.S. and of course available as an import in the U.K. That EP is also available on vinyl in the U.K.)
mp3:
Louis XIV - Marc
(from the
Illegal Tender
EP)
mp3:
The Rakes - Work, Work, Work (Pub, Club, Sleep)
(from
Capture/Release
, available in the U.K. Import copies are wildly expensive at Amazon -- $29.49 -- but third party sellers there and doubtless elsewhere offer new copies for around $17, which is cheaper than plenty of non-import CDs)
mp3:
Morning Runner - Gone Up In Flames
(a single in the U.K.)
mp3:
Pendulum - Plastic World
(from
Hold Your Colour
, available in the U.K., Amazon sells it as an import for $18.49)
mp3:
Pendulum - Streamline
(from
Hold Your Colour
)
mp3:
Bedouin Soundclash - Santa Monica
(from
Root Fire
, available in the U.K., going by Amazon, is not currently available in the U.S. other than as an import)
mp3:
Bedouin Soundclash - Music My Rock
(from
Sounding a Mosaic
, currently available in the U.S. as well as the U.K.)
mp3:
Bedouin Soundclash - When The Night Feels My Song
(from
Sounding a Mosaic
)
mp3:
Madeleine Peyroux - You're Gonna Make Me Lonesome When You Go
(Bob Dylan cover, from
Careless Love
, available now in both the UK and the US, and likely elsewhere as well)
mp3:
Madeleine Peyroux - I'll Look Around
(from
Careless Love
)
More Arctic Monkeys:
I Bet You Look Good On the Dancefloor video
(at their website)
You can check out songs and videos from We Are Scientists at their website's
songs page
Streaming songs from Kubb at their
website
; you can also buy downloads of songs there.