Office Space - Now With Flair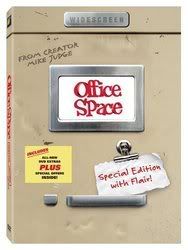 I ended my recent little run of bad movies last night with Nightmare Before Christmas, which I had never seen before, but if I needed something to break the streak, this flick would do it. Newly available this Tuesday, November 1: a deluxe edition of the Office Space DVD, titled
Office Space - Special Edition With Flair
. It includes "Out of the Office: An Office Space retrospective with Mike Judge", as well as deleted scenes, and the trailer (big deal). Based on that list of special features, this special edition doesn't sound as special as it should be. Office Space is one of my favourite movies and it deserves a really top-notch special edition! Lots of bells and whistles (not literally, that would be annoying). The list price is $19.98 (it's currently $13.99 at Amazon), which isn't horrible, but it's a bit pricey considering that a lot of people already own it and that the special features are a tad on the skimpy side. They haven't even added a commentary track. Maybe they're saving that for the "anniversary edition".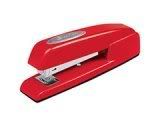 For those willing to pay $22.99, Best Buy will sell them a version called
Office Space Extra Special Edition Exclusive DVD
which includes a mousepad, coffee mug, magnet picture frame, notepad, "pen/pencil" (a combination?), and most significantly, a red Swingline stapler. You could buy one separately, but this is a clever idea. They will probably sell like hotcakes at the holidays, or possibly sell like hotcakes if they came with a red Swingline stapler.
MP3:
Geto Boys - Damn It Feels Good to Be a Gangsta
(from
Office Space: The Motion Picture Soundtrack
)
MP3:
Perez Prado - Mambo #8
(from
Office Space: The Motion Picture Soundtrack
)