Blog Against Sexism Day
Via
green LA girl
, I learned today is
Blog Against Sexism Day
. March 8 was chosen because it's also International Women's Day. Bloggers, particularly those who rarely or never write about sexism, are asked to write against it today, and to
post their blog's link
or e-mail vegankid, the Blog Against Sexism Day organizer.
Funnily enough, I wrote a bit about a magazine cover I found sexist just yesterday. I love music magazines and the covers themselves are interesting. I don't consider Rolling Stone an especially good music magazine, but it's certainly a popular one, and their covers have long struck me as... interesting. I took a look at the
covers of their 2005 issues
... out of 25 issues, 4 women landed the cover on their own: Gwen Stefani, Jessica Alba, Evangeline Lilly (for "The Hot List" issue), and Madonna.




All are pictured flashing some skin, in suggestive poses. Only two are even musicians, though it's true that Rolling Stone is more of a pop culture magazine than a music magazine. When a man lands the cover of Rolling Stone alone, if he's posed suggestively (which is rare), even with a naughty headline like "Sex on the Beach with Orlando Bloom", he generally still gets to keep his shirt.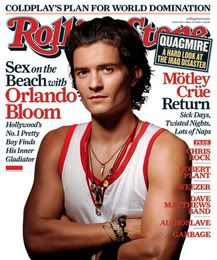 More often, when a man appears alone on a Rolling Stone cover, the focus is on his face.



This same is usually true of male cover subjects who are no longer among the living (Bob Marley excepted).

Rolling Stone (and its readers) might say, hey, female flesh sells. Then why the arguably unsexy Rolling Stones and McCartney covers? Wouldn't a semi-clad model on the cover of those issues have moved more copies?


And why did Meg White have to hide behind Jack?

Owen Wilson and Vince Vaughn were on an issue last year, ditto for Darth Vader and King Kong. A lot of excellent women musicians haven't been deemed coverworthy by Rolling Stone.
Sonic Youth - Swimsuit Issue
(from
Dirty
)