Uncut April 2006 Magazine and Playlist CD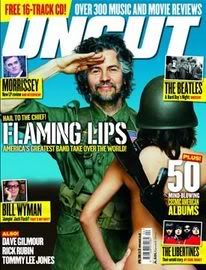 The April 2006 issue of
Uncut
dubs The Flaming Lips "America's Greatest Band". What better way to honor America's allegedly greatest band than by presenting their lead singer with an anonymous, armed naked woman? Perhaps presenting him with a naked family friend, made anonymous for the purposes of a magazine cover? Or better still, let him "frantically" orchestrate a photo shoot for an article where you ask him questions like "What's the best thing about being Wayne Coyne?" And "Are the Lips The Greatest Band On the Planet?"
It's cool with Coyne if anyone calls his band "the Greatest Band on the Planet" (though Uncut toned their cover praise down to "America's Greatest"; hopefully that won't make Coyne's lob the fake grenade he's wearing on the cover toward the Uncut offices). He also says that he's not fond of Michael Stipe, and shares an old quote from one of his bandmates that R.E.M. hadn't done anything good in 20 years. Overly harsh criticism, though I don't like R.E.M.'s later work as much as their earlier work. Given the choice, I'd still take any R.E.M. album as a desert island disc over The Flaming Lips' entire discography. I don't dislike The Flaming Lips' music, I just like R.E.M.'s music much more.
Interviewed in this issue, along with the frenetic, great Coyne: Rick Rubin, Bill Wyman, and (briefly) Mystery Jets, Giant Drag, and Geno Washington (for a feature titled "Thought You Were Dead"). Tommy Lee Jones also discusses "The Three Burials Of Melquiades Estrada", the first film he's directed. It's a "heartbreaking Tex-Mex border western" in which he acts as well.
List-loving Uncut recommends the "50 Greatest Cosmic American Albums". Their top 10:
1. The Grateful Dead -
Workingman's Dead
2. The Byrds -
Fifth Dimension
3. Brian Wilson -
Smile
4. The Band -
The Band
5. The Flaming Lips -
The Soft Bulletin
6. Prince & The Revolution -
Around The World In A Day
7. Jimi Hendrix -
Electric Ladyland
8. Tim Buckley -
Starsailor
9. Chris Bell -
I Am The Cosmos
10. The Flying Burrito Brothers -
The Gilded Palace Of Sin
Reviews-wise, a mere 3 stars for Morrissey's
Ringleader Of The Tormentors
, "yet another slightly underwhelming new album"... "Funnily enough, it's the lyrics that let
Ringleader
down the most... Morrissey seems content to coast on the power of his name."
The Elected's
Sun, Sun, Sun
also gets 3 stars, as does Mogwai's
Mr Beast
. I think both should be rated higher. 3 stars too for Seth Lakeman's
Freedom Fields
, named after a 1643 Civil War battle. All the songs loosely address "conflict, war and liberty." The reviewer feels "the earnestness in his voice can irritate, but there's no doubting the songwriting talent." Singing about "conflict, war and liberty" in a non-earnest way would have been another way to go, I suppose.
Gary Numan's
Jagged
, out next Tuesday in North America, is deemed worthy of only two stars ("Numan persists in churning out bombastic, comically serious prog-metal.
Jagged
is perfectly adequate for its genre, and certainly no better or worse than the average Korn or Fear Factory album. But behind its techno-goth shuders and horror-movie fireworks, it tells us precisely zilch about what it really feels like to be Gary Numan in 2006.")
Uncut does like some music. Lots, actually. Yeah Yeah Yeahs'
Show Your Bones
is awarded 4 stars. In particular, they praise first single "Gold Lion", "the riot grrrl blast of 'Honey Bear'", "the unintended Grandmaster Flash homage of 'Phenomena'", the "poignant" "Cheated Hearts" and "Dudley", and the "perfectly epic finish" provided by "Turn Into".
4 stars for
Born Again In The USA
, the second and possibly last album by Loose Fur, at least with their current line-up (Jeff Tweedy, Glenn Kotche, and Jim O'Rourke, who for the time being has quit both Sonic Youth and music, in favor of the film business).
Born Again
is intended as "a materialist counterpunch" to God's having snuck into alt rock. "An air of cheerful skepticism prevails over the 10 tracks, all bathed in the kind of dry, warm production favoured by early-'70s radio rock, with Chicagoans Tweedy and O'Rourke sharing vocals."
Another 4 stars for Neko Case's
Fox Confessor Brings The Flood
("she has defiantly come into her own."), Mystery Jets'
Making Dens
("A mini masterwork of magic-realist Britwork melodrama"), and Graham Coxon's
Love Travels At Illegal Speeds
("Coxon has finally found his niche"). Uncut digs Willard Grant Conspiracy's
Let It Roll
and The Secret Machines'
Ten Silver Drops
as well, and tosses 4 stars to both.
Ah, but Donald Fagen's
Morph The Cat
gets a rare 5-star prize ("In 2006, as in 1976, pop music doesn't get any headier than this.")

Uncut April Playlist Track Listing:
1.
Josh Ritter - Girl in the War
(from
The Animal Years
)
2. Drive-By Truckers - Daylight
3.
Morrissey - The Never Played Symphonies
(from the 2-disc deluxe edition of
You Are The Quarry
)
4.
The Secret Machines - Alone, Jealous and Stoned
(from
Ten Silver Drops
)
5.
Willard Grant Conspiracy - Flying Low
(from
Let It Roll
)
6. Spirit - My Friend
7. The Flaming Lips - Mr Ambulance Driver
8.
Loose Fur - Hey Chicken
(from
Born Again In the USA
)
9. My Latest Novel - Poetry In A Panic
10. Mudhoney - Endless Yesterdays
11. Story - Cinnamon
12. The Moody Blues - Never Comes The Day
13. Howe Gelb - But I Did Not
14. Mystery Jets - The Tale (see yesterday's post)
15. Archie Bronson Outfit - Cuckoo
16. Nick Cave & Warren Ellis - Clean Hands, Dirty Hands