Drop Black Sky CD Release Party This Sunday in San Francisco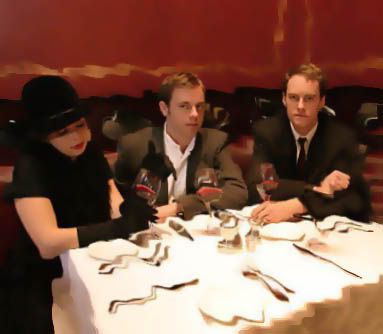 Like most groups whose music can be heard on college radio stations,
Drop Black Sky
includes a Chinese violin (er hu).
They cite as influences such groups as Dead Can Dance, Cocteau Twins, and Tool, but as that er hu shows, they have ways of crafting a complex sound all their own. A variety of video imagery helps make their live performances all the more unique.
The band celebrates the release of their EP,
Ring Pass Not
this Sunday, the 23rd, with a
CD release party
at 7:00 PM at the DNA Lounge in San Francisco (21+), along with several unique opening acts. It's $9
in advance
or $12 at the door. Wearing butterflies to the show will fetch you a $2 discount on merch.
Streaming audio
of a dozen tracks from Drop Black Sky's CD is available at the group's website. Their EP,
Ring Pass Not
is
available for $8
.
Opening for Drop Black Sky are:
Comedian/juggler/cook
Scot Nery
- "Wacky and nutty stunts from cooking strange items to roasting marshmallows from a flaming foot will have your belly aching and your mind questioning the purpose of this show all the way home",
promised
a review of one of his shows.
Magic Box
draws upon many genres of music - including jazz, classical, Middle Eastern, Rock, and certainly trance in creating their music. Tom Maxwell of the Blue Hawaiians is on percussion, and Glen Lynskey on electric guitar.
Streaming audio clips
of songs from Magic Box's album,
Bliss of a Madman
are available at their website. The album is
available for purchase for $14
.
Norton Wisdom
, a "performance painter"; many examples of his work are available at his
website
.
The Greyman
has the distinction of being the only artist whose live work I can vouch for, as I saw and quite enjoyed a preview of the
Trichotomy 1.0
show he'll be performing in San Francisco. It consists of 3 scenes: anger, happy, and serene. The performance includes chant, scatting, and beatbox, and mimicking of various instruments. He claims his influences are "Dead Can Dance, Depeche Mode, Tool, Enya, Bobby McFerrin, Kid Beyond, and the many colors of the human voice." However, I don't recall much lime green.
Audio, including MP3s, of The Greyman's music, is available on
his website
.
The Stunt People
will "present a live fight and stunt demonstration!"
The Stunt People are a group of stunt people (of course), as well as acrobats, and martial artists, who think fight scenes in American action films need not look to other countries for top-notch talent. They direct, produce, and edit their own short-and-feature-length
films
, while seeking other film work. They're San-Francisco-based but some members live elsewhere in California.
If you live in the San Francisco/Bay Area, and work out with them at their gym and/or make movies with them, you're already a "part" of the group". No audition is necessary. If you're interested,
drop them an email
. However, "Considerate and polite people only, please."
Plus: DJ Merrick, a resident DJ at gothic/industrial club
Death Guild
. DJ Merrick favors "neo-folk, dark ambient, and militant" music.
DJ RMS (Repetitive Motion Syndrome)
, an "avid experimental music collector", completes the impressive line-up. Expect to hear some music you haven't heard before... could be in any genre, likely several. He has eclectic tastes.