Sarah Harmer, Unplugged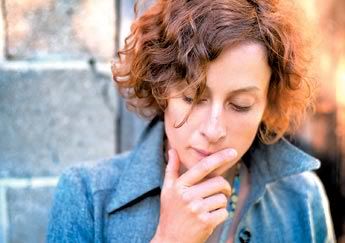 The buzz surrounding
Sarah Harmer
in the States is perhaps as heartfelt as her music, but it might be about as loud as well, which is to say not very. It's low-key, is all.
Her latest album,
I'm A Mountain
(a
tarot reading provided the idea
for the title song), marks a shift to a quieter and more traditional sound. It's her first acoustic album. While everyone hasn't settled on one description (it's been alternately described as bluegrass, folk, roots, and country), previous labels like alt-pop do seem to have been set aside for now. Regardless of quality, that change will likely alienate some listeners, but commercial considerations don't seem to have entered into the equation for Harmer. She says, "I made it for myself." She was driven by a personal quest of sorts. Sick of being cooped up in a van while on tour, she decided to go and see some actual land up close.
Harmer tells the
Los Angeles Times
about the two weeks she
hiked part of the Niagara Escarpment's 480-mile Bruce Trail
with her band last summer. During the hike, they played songs about the threatened land, songs which later landed on
I'm A Mountain
.
The Times describes "Escarpment Blues" as "the true story of a quarry's recent bid to expand its operations into Escarpment farmlands - farms that border the land Harmer grew up on and on which her parents still live." Her father sings backup on "the piano-dappled" "Oleander".
Harmer says, "People are responding to the simplicity and the approachable quality of this record. I made it for myself. But when it has the effect of helping someone else or being something that someone else likes, it's really satisfying."
Harmer has a show tonight at Cafe Du Nord in San Francisco, then heads south for a set at
The Knitting Factory
in Hollywood Saturday night. Great Aunt Ida opens for both shows. Doors are at 8:00, Great Aunt Ida's set begins at 9:30, and Harmer will be on stage at 10:30, according to
her website
. Tickets are $20.
Sarah Harmer - Oleander
(from
I'm A Mountain
)
Sarah Harmer - Open Window (The Wedding Song)
(from
Hillside Festival Volume One
)