Mojo: Hail to the King! CD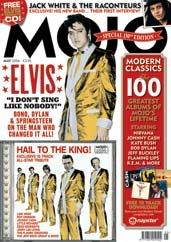 The May 2006
Mojo
honors Elvis Presley with its monthly compilation CD,
Mojo: Hail To The King!
. The cover feature takes us back to 1956 (without each reader even having to bother finding a DeLorean, a Flux Capacitor, and a bit o' plutonium). While staying in '56, we follow the progress of Presley through the year, with "eyewitness" sidebar stories providing further insight (and especially useful for those with short attention spans, who may ignore the rest). There are also shorter features, like one about "track of the year", "Heartbreak Hotel".
Also in this issue: lengthy interviews with The Pretenders' frontwoman Chrissie Hynde, The Raconteurs, and Christy Moore.
Mojo also lists the top 100 modern classics, "modern" meaning since Mojo began (hey, that's how
I've
always defined it! I feel so validated). More on their top 100 in another post.
For now, on to the CD!
Mojo: Hail To The King!
Tracklisting:
1.
The Jeff Beck Group - All Shook Up
(also on
Beck-Ola
)
2. Duffy Power - Lawdy Miss Clawdy
3. Betty Everett - Hound Dog
4.
Albert King - That's All Right
(also on
Blues For Elvis
)
5. Little Richard - Money Honey
6. Rockin' Rebels - Let's Play House
7.
Johnny Cash - I Forgot To Remember To Forget
(also on
Walk The Line
. Hyped he may be, but who doesn't love Johnny Cash?)
8.
Link Wray - Love Me Tender
(also on
Apache/Wild Side Of The City Lights
. Wray named one of his sons Link Elvis Wray)
9. Roy Orbison - Trying To Get To You
10.
Chris Clark - In The Ghetto
(also on
The Motown Collection
. Mojo calls Clark "possibly one of the most underrated blue-eyed soul performers of all-time.")
11. El Vez - It's Now Or Never
12. Jerry Lee Lewis - Don't Be Cruel
13. The Flamin' Groovies - Milkcow Blues
14. Dean Carter - Jailhouse Rock
15. Dead Kennedys - Viva Las Vegas