Keep Waiting, Kentucky: Sufjan Stevens Announces More Music From "Illinois"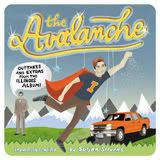 It can now be told. Sufjan Stevens' humble one-disc
Illinois
was
originally intended as a two-disc set, which would have included nearly 50 tracks
. Fair enough that Stevens decided the project was becoming too "unwieldy", but even the loss of the reviews of the 2-disc
Illinois
is a shame. It's such a missed opportunity for us all to learn a great many synonyms for "sprawling".
Let's find solace in music... broadway style! Actually, let's skip that last part. Stevens
returned to work on the leftover material at the end of last year
. Some songs were done, some needed a lot of work... in the end, Stevens put together a 21-song collection of
Illinois
outtakes he has titled
The Avalanche: Outtakes and Extras from the Illinois Album
. The title (the first part, that is) is taken from a song initially "intended for the leading role" on
Illinois
but in the end included only the vinyl version, as a bonus track.
The new album, which
will be released July 11
, also includes three alternate versions of "Chicago" and a song in which "Carl Sandburg arm-wrestles Saul Bellow."
Tracklisting for
The Avalanche: Outtakes and Extras from the Illinois Album
:
1.
The Avalanche
(also from the vinyl version of
Illinois
)
2. Dear Mr Supercomputer
3. Adlai Stevenson
4. The Vivian Girls Are Visited In the Night by Saint Dargarius and his Squadron of Benevolent Butterflies
5. Chicago (acoustic version)
6. The Henney Buggy Band
7. Saul Bellow
8. Carlyle Lake
9. Springfield, or Bobby Got a Shadfly Caught in his Hair
10. The Mistress Witch from McClure (or, The Mind That Knows Itself)
11. Kaskaskia River
12. Chicago (adult contemporary easy listening version)
13. Inaugural Pop Music for Jane Margaret Byrne
14. No Man's Land
15. The Palm Sunday Tornado Hits Crystal Lake
16. The Pick-up
17. The Perpetual Self, or "What Would Saul Alinsky Do?"
18. For Clyde Tombaugh
19. Chicago (Multiple Personality Disorder version)
20. Pittsfield
21. The Undivided Self (for Eppie and Popo)
And because this project will likely delay the next state songs album (incidentally, I'm only predicting Kentucky as its theme if that turns out to be correct), here are a few non-Sufjan-Stevens tunes along those lines (at least in the geographically-themed sense):
Michelle Shocked - Anchorage
(from
Short Sharp Shocked
)
Ben Kweller - Commerce, TX
(from
Sha Sha
)
John Linnell - Maine
(from
State Songs
)
John Linnell - Louisiana
(from
State Songs
)
The B-52's - Private Idaho
(from
Time Capsule: Songs For A Future Generation
)
The New Amsterdams - Idaho
(from
Never You Mind
)
The Cash Brothers - Nebraska
(Bruce Springsteen cover, from
Uncut: Thunder Road - Tracks Inspired By The Boss
)
The New Amsterdams - From California
(from
Worse For The Wear
)