More Cowbell!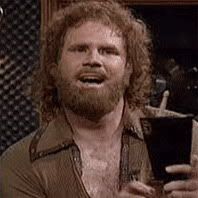 As if Canada hadn't already contributed enough to pop culture by giving us
Norm MacDonald and oh so many other comedians
, they now bring us
more cowbell - in fact, Maximum Cowbell, a compilation of cowbell songs
.
Alright, technically, the album, compiled by James Greenspan of Toronto, along with his friends, is currently only available in America Jr. But surely it's only matter a time before the cowbell-fueled sonic goodness is shared with the rest of North America, and hopefully with the rest of the globe. Everyone craves cowbell.
The compilation includes Mountain's "Mississippi Queen", Ted Nugent's "Free for All", Edgar Winter's "Frankenstein", Loverboy's "Working for the Weekend" (the only Canadian song on the album),
Elvis Presley's "Burning Love", and Santana's "Evil Ways"
.
Greenspan said Nazareth's "Hair of the Dog" and Grand Funk Railroad's "We're an American Band" were left out to "leave room for volume two."
There are enough cowbell-enhanced songs for plenty of volumes, although of course there's never enough cowbell. Almost any song would sound better with at least a little cowbell, and likely a lot of cowbell.
Loverboy - Working For The Weekend
(from
Loverboy Classics: Their Greatest Hits
)
The Edgar Winter Group - Frankenstein
(from
They Only Come Out At Night
)
Blue Oyster Cult - Don't Fear The Reaper
(from
Don't Fear The Reaper: The Best of Blue Oyster Cult
)
Free - All Right Now
(from
The Best Air Guitar Album In The World Ever Vol. 1
)
Santana - Evil Ways
(from
Santana's Greatest Hits
, etc.)
Nazareth - Hair Of The Dog
(from the
Lords of Dogtown
soundtrack, etc.)
The Beatles - You Can't Do That
(from
A Hard Day's Night
)
Unit 4 Plus 2 - Concrete And Clay
(from
60 Number Ones Of The Sixties
)
EMF - Unbelievable
(from
Schubert Dip
)
LCD Soundsystem - Daft Punk Is Playing At My House
(from
LCD Soundsystem
, etc.)
Hugh Masekela - Grazin' In The Grass
(from
Hope
)