Gene Pitney Dies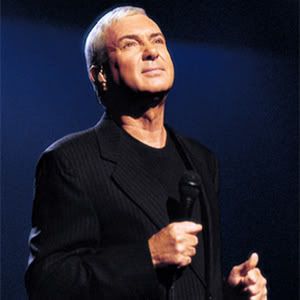 Pop singer-songwriter
Gene Pitney
has
died at the age of 65, apparently of natural causes
. Pitney
appeared healthy at a concert
Tuesday night, performing with "enthusiasm". His body was discovered the next morning in his South Wales hotel room by his tour manager, James Kelly. Kelly said, "We don't have a cause of death at the moment but looks like it was a very peaceful passing."
When Pitney was
inducted into the Rock and Roll Hall of Fame
four years ago, he was hailed as one of the "unsung heroes of the rock and roll era". Perhaps his songs are better-known than than he is, particularly in the U.S. His last Top 40 hit in the U.S. was
1968's "She's a Heartbreaker" (which reached #16)
. He had a #1 hit in the U.K. in 1989 (albeit, with his only #1 song ever as a singer, with a new version of his song "Something's Gotten Hold Of My Heart", recorded with
Marc Almond
. Almond today said that
"it was an honour to have worked with him"
and called Pitney "a great, unique singer of great, unique songs.")
They didn't reach the top of the charts, but songs such as "Town Without Pity", "Only Love Can Break a Heart", "(The Man Who Shot) Liberty Valence", and "Every Breath I Take" did prove very popular. Pitney also found much success as a songwriter. Artists who recorded his songs include The Crystals ("He's A Rebel", a #1 hit), Bobby Vee ("Red Rubber Ball", also a #1 hit), Rick Nelson, and Roy Orbison.
In 1964, during a joint tour with Gerry & the Pacemakers,
an R&B group called The Mannish Boys was an opening act
for 6 shows. The group featured a young David Bowie, who sang and played saxophone. Some consider Bowie's
The Rise and Fall of Ziggy Stardust
a possible "ode to (or parody of) Pitney's rather melodramatic vocal range, technique and mannerisms."
Many of his songs do have a rather melodramatic, angst-ridden sound. Perhaps people found something cathartic in the sense of overwraught emotion Pitney could convey, and that has contributed to both his success and continuing influence.
Gene Pitney - Town Without Pity
(from
Looking Through: The Ultimate Collection
, etc.)
Gene Pitney - Something's Gotten Hold Of My Heart
(from
Gene Pitney - 25 All-Time Greatest Hits
, etc.)
Gene Pitney feat. Marc Almond - Something's Gotten Hold Of My Heart
(from
Looking Through: The Ultimate Collection
, etc.)