Belated Mini Gift Guide
Alright, so my shiny, comprehensive, amazing gift guide didn't quite come together as planned. The thing is, I'm pretty sure there's bound to be a Chia shortage at this late date, and
some
of your loved ones probably deserve something cool.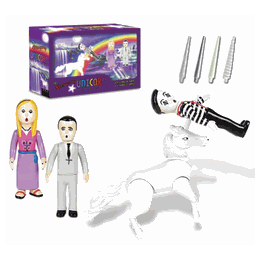 The Avenging Unicorn Play Set
($11.95,
shakespearesden.com
)
The set comes with a unicorn, four types of "magical" horns, and three figures to impale: a "new age woman" (ironically enough), a "businessman", and a mime. Most people seem to have a few desk toys; why not add to someone's collection? Anti-mime humor at least will always be timely. And unicorn humor, why that, uh...
So apparently unicorns
have a code
and this is it:
The Unicorn Code
1. Unicorns never lie.
2. Unicorns always lend a helping hand.
3. Unicorns are loyal.
4. Unicorns can keep a secret.
5. Unicorns don't use drugs.
Nothing in there about not impaling people, whew!
December 18th - 1:00 PM is shakespearesden's deadline for orders being shipped to residential addresses using ground shipping.
December 19th - 1 PM PST is the deadline to place an order using Fed EX 3 Day Select.
December 20th - 10 AM PST is the deadline to place an order by US Priority Mail.
There are other
assorted shipping deadlines
.
And if you've been looking for an Edgar Allan Poe nodder, to no avail, your search can end today.

Sad Ghost Salt and Pepper Shakers
($50,
Cerealart.com
)
I find these salt and pepper shakers, by Marcel Dzama, impossibly cute. Dzama's
Sad Ghost Lamp
($100) is quite cute too.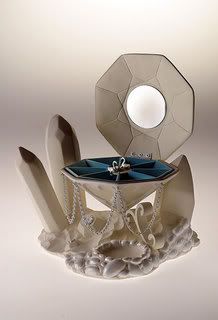 Cerealart also carries a rather lovely limited-edition
jewelry box
by Kirsten Hassenfeld that plays the Velvet Underground's "I'm Sticking With You" when you open the lid. Plus, a swan glides around a lotus flower. No sad ghosts, though, and it'll set you back $400.
Shipping deadlines for Cerealart items:
December 19th noon EST - UPS 3 Day select
December 20th noon EST - UPS 2nd Day Air
December 21st noon EST - UPS Next Day Air
Disclaimer: Found these items on my own looking for weird things and cool items related to design, respectively. I wasn't contacted by either company and haven't been given anything by them. I don't know the artists, or anyone at either company, for that matter, unless, I suppose, I knew them briefly a long time ago, like I went to school with someone who works at one of the places I mentioned. That's possible, but, c'mon, I don't remember everyone I went to school with, so it's impossible to rule out that sort of connection. If it's that weak, can I really be said to "know" them? I think not! Be fair. You're still just cranky about this so-called gift guide arriving late, and not exactly being chock-full of gift ideas. Well maybe you shouldn't have put all your eggs in one basket in waiting for my ideas before starting your shopping, hmm? Aw, let's not fight. Have some music.
And you know you'll just do most of your shopping at the last minute anyway.
Father Guido Sarducci - Santa's Lament
(available on
Holidays In Dementia
)
Eisley - The Winter Song
(available on
Marvelous Things
)
Bert & Ernie - Have Yourself A Merry Little Christmas
(available on
A Sesame Street Christmas
)
June Christy - The Merriest
(available on
Christmas With A Kick
)