Mojo CD: In My Room - Tribute To Brian Wilson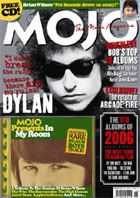 The January issue of
Mojo
includes a CD honoring Brian Wilson's music. Here's a few tracks from it and a bit about them:
Mojo Presents In My Room - A Tribute To The Genius Of Brian Wilson

Track Listing:
1. The Who - Barbara Ann
2. The Beach Boys - Hang On To Your Ego
3. Curt Boettcher - It's A Sad World
4. The High Llamas - Leaf And Lime
5. The Superimposers - Would It Be Impossible (listed as "Possible" by Mojo. Good track, the typo's a bummer.)
6.
Steve Almaas & Ali Smith - The Lonely Sea
(Beach Boys cover, available on
You Showed Me
) Mojo: "adds a brooding sense of dark romance to the original." This is very evocative. It sounds very much like a certain kind of 60s song... and then when she starts the spoken interlude - "This pain in my heart/These tears in my eyes" - Awesome... (Smith chimes in with backing vocals toward the end, possibly to justify putting his name first in the credit. He also strums a mean guitar, which is much more important to the song's sound.)
7. Jan & Dean - Like A Summer Rain
8. Epicycle - Wake The World
9. Doleful Lions - H.E.L.P. Is On The Way (exclusive to Mojo)
10.
The Apples In Stereo - Submarine Dream
(available on
The Discovery of a World Inside the Moone
) Mojo thinks the tune and the band in general have a "seductive Wilsonesque pop suss." The mixture of sounds added to the languid vocals works well - like fuzzy guitars, "hey-la, hey-la"s, and an occasional twinkling of bells.
11.
The Mockers - God Only Knows
(Beach Boys cover, according to Mojo, available on
The Lonesome Death Of Electric Campfire
. Actually only available on the
Japanese 2 CD edition
) The Mockers' liner notes for both discs are on
their website
, with info about this "power pop" version, sung by their drummer Nelson Bragg. This is a cheerful, upbeat take on the song. It's sweet too, but it's refreshing to hear something different done with "God Only Knows". (Different and good, that is) And, hey, it makes sense that being in love might lead one to feeling gleeful.
12.
Elf Power - All The World Is Waiting
(available on
Back To The Web
) Mojo calls Elf Power "the architects of kaleidoscopic glam-pop, as evidenced on this track which comes on like a long lost glam-surf collaboration between The Sweet and
20/20
-era Beach Boys." Not to mention the lyrics are quite good and it's infectious, with bonus points for using handclaps.
13. Mark Wirtz - I Can Hear Music
14. The Langley Schools Project - In My Room
15. The Barracudas - His Last Summer