Pop Culture Press Issue 63/CD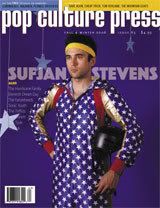 On the cover of the latest
Pop Culture Press
:
Sufjan Stevens
, all decked out in stars and stripes... which doesn't mean Stevens has much to say about the state albums project. In his interview, he has exactly this much to say about it: "No, I don't like to talk about that."
The magazine also includes interviews with Tom Verlaine (focussed on discussing each of his solo albums), Lemonhead Evan Dando, Mountain Goat John Darnielle, Dave Alvin, Lee Renaldo of Sonic Youth, Chris Knight, The Tyde, The Handsome Family, Eleventh Dream Day, Cheap Trick's Rick Nielsen, Walter Martin of The Walkmen, The Ark's Ola Salo, Voxtrot's Ramesh Srivastav, and Steve Versaw of The M's.
The Pop Culture Press disc this time out has 22 tracks from The Walkmen, Nat Baldwin, The Loud Family and Anton Barbeau, Pernice Brothers, and The Lemonheads, among others.
Pop Culture Press CD Sampler 25

Track Listing:
1. Jay Bennett - Replace You
2. The Tickets - Our Two Hearts
3. Pernice Brothers - Somerville
4. Semion - Transmission
5. The Lemonheads - No Backbone
6.
The Loud Family and Anton Barbeau - Mavis of Maybelline Towers
(available on
What If It Works?
) Catchy, eccentric alterna-pop.
7. Jeffrey Dean Foster - The Summer of the Son of Sam
8.
The Walkmen
(Mazarin cover, available on
A Hundred Miles Off
) "I walk outside and try to see you right in front of me/Silhouette of something sweet and so bright/I don't know what to offer you when I'm only broke and lonely/And another one goes, and another one goes by" Beautifully sung, beautifully played.
9. The Shimmers - The Letter
10. The Trolleyvox - I Am Annabelle
11. Smash Palace - My New Sensation
12. The Tyde - Brock Landers
13. The Kickbacks - Lazy Eye
14. The Successful Failures - Time To Sell
15. The World Record - Gtrs4ever
16.
The Sails - See Myself
(available on
The Sails
) At 1:44, there's enough time in this pop tune to establish that this chick is "putting on another act for the boys" and "everyone knows what she's doing", and that he wants "you", but not enough time to figure out whether it really is an act or whether everyone really does agree with him. "You" and "she" are probably the same person, but one can't be completely sure, can I?
17. Mike Therieau - I'm Sorry
18. Nervous Exits - It's A Flash
19.
Nat Baldwin - Wake Up It's Time to Rise
(available on
Lights Out
) Different and really good. Baldwin's voice is distinctive (although the quavers might bring Thom Yorke to mind, their voices don't sound that much alike). He plays double bass as well as singing, no mean feat, particularly given the interplay between the instrument and his vocals in this song.
20. My Brightest Diamond - Disappear
21. Ultraset - 10 Minutes at a Time
22. Needle - Black Holes