Guitarapalooza at Harrods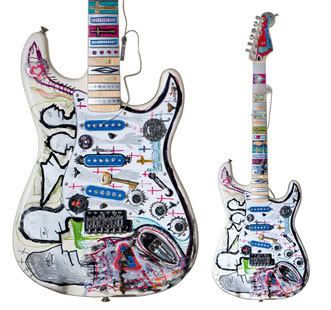 On February 1st,
Harrods
department store in London will open
Born To Rock: The Life And Times of the Electric Guitar (1931-2007)
an exhibit of over 100 vintage and rare guitars, including, in its first appearance outside the U.S., "Frying Pan", the first electric guitar. The exhibit will be open through March 3rd. Before then, the U.K. may set a new Guinness World Record at Harrods with the help of a whole lot of guitarists, and a lot of people will wrestle with how much to bid on their favorite celebrity-painted-and-donated guitar (Joseph Arthur's
Teenage Dreams
is pictured above).
Loads of custom guitars will be on display, as well as those owned by musicians such as Carlos Santana, Keith Richards, The Edge, and Noel Gallagher. These are not up for auction and presumably are legitimately on loan. If not Noel Gallagher would probably be very reluctant to speak up about it.
Born to Rock
also promises
"live music from some of the hottest young bands in the UK."
Over 50 guitars
were customized by "some of the biggest names in music, fashion, photography, design and the visual arts" to be auctioned off for charity. All will be on display at Harrods, and also at
Galeries Lafayette
and the
National Museum of Ireland
The money raised will be divvied up among
all the charities
selected by the big names.
Those big names who customized (and named) guitars for the auction include
Anton Corbijn
(his guitar is Offender®) and
Fred Deakin
(his creation was dubbed Jelly Guitar), in addition to the aforementioned Joseph Arthur, who said he wanted to paint his guitar Teenage Dreams "like I would one of my own. Like a teenager hiding in his bedroom giving his most prized possession mythical tattoos. I wanted it to look like I lived with it. Like I wrote some classics on it. I wanted to give it a soul."
Pictures of all the guitars are online and those interested can
register to bid
on a particular guitar (those not interested can also to register to bid, but that would be wrong.)
Lemon Jelly - Stay With You
(available on
Chillout Sessions, Vol. 7
)
Joseph Arthur - Let's Embrace
(available on
Redemption's Son
)
Harrods is seeking 2,000 guitarists who are "proficient musicians" and can bring their own guitar - acoustic or electric - February 18th at 8 AM to help set a Guinness World Record. They want
2,000 guitarists to play Deep Purple's "Smoke On the Water"
. The current record for the most guitarists to simultaneously play a song is a comparatively measly 1,322 set way back in 1994 in Vancouver. All guitarists will get earplugs (!), a plectrum, T-shirt, and a chance at assorted prizes.
Naturally, registration can be
done online
.